The excuses of Alessandro Michele after the accusations of racism
The designer's words arrive after the withdrawal of the sweater accused of alluding to a "blackface" image
After the case of Dolce & Gabbana-China, after Prada, ended last December for the monkey Otto, part of the gadget line Pradamalia, disappeared from the digital stores because too much resembling the racist caricatures of black people, now it's up to Gucci to face criticism and accusations of racism. The offending item is a sweater-ski mask that, if raised under the eyes, reveals an opening at the height of the mouth decorated with two large red lips. Many pointed out, especially via Twitter, the similarity between this item, part of Gucci's FW18, and the "blackface" images, a widespread custom in the nineteenth century for which in some theatrical performances the whites painted their faces to mimic and mocking African Americans.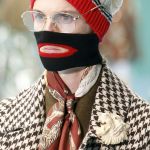 The Tuscan company's response was sudden, as was the release of a press release. Today to reaffirm his apologies is Alessandro Michele, creative director of Gucci, who in a long letter, after stating that his intent in creating the sweater was certainly not discriminate or insult, but his inspiration was Leigh Bowery and his art of transformism, he writes:
"The fact that, contrary to my intentions, that turtleneck sweater evokes a racist imagery makes me immense pain [...] But I am aware that sometimes our actions can cause unintended effects, therefore it is necessary to take full responsibility for these effects."
Let's take a step back and summarize the facts. Last week a Twitter user named Rashida posted the photograph of the incriminated sweater commenting:
"Happy month of Black History to everyone."
This phrase that alludes to the fact that in North America the month of February is dedicated to the celebration of history and people of color has triggered a chain of comments and criticism towards Gucci and his alleged lack of respect. Among the many stands out that of Spike Lee announcing the boycott. The brand reacted promptly always via social media with a press release:
"Gucci deeply apologizes for the offense caused by the wool balaclava jumper. We confirm that the item has been immediately rremoved from our online store and all physical stores.We consider diversity to be a fundamental value that must be fully upheld, respected and at the forefront of every decision we make. We are fully committed to increasing diversity throughout our organisation and turning this incident into a powerful learning moment for the entire Gucci team."
Not satisfied with the answer, the famous designer Dapper Dan has made it known that he considers the company's leaders responsible for the offensive error, declaring:
"Another fashion house has made a scandal scandalous: there are no excuses or excuses that can cancel this kind of insults. [...] The CEO of Gucci has agreed to come from Italy to Harlem this week to meet me, together with community members and other industry leaders."
The CEO of Gucci, Marco Bizzarri, in fact, after a while released an internal memo to the company in which he admits to be deeply sorry for the mistake and to be a global cultural awareness program and a scholarship program for "facilitate an increase in the various communities within the creative office". After all this change of statements, we arrive today and Michele's apology. We do not know yet if they can solve the problem, to seduce the minds or if the case of the balaclava sweater will seriously or irreparably affect the images and the business of Gucci, until now one of the most loved brands in the world. But we can ask ourselves whether the problem of the continuous multiplication of accusations of cultural appropriation and racism is due to a general lack of respect and widespread ignorance of the designers. Difficult, however, to accuse Michele of little culture or non-sensitivity towards any diversity, since the Roman designer in his collections and with his aesthetic has always emphasized how diversity is synonymous with beauty.
Below is the entire letter written by Alessandro Michele.
Dear Colleagues,
I feel the need to write you all these few words to give a name to the pain of these days: my own and that of the people who saw in one of my creative projects an intolerable insult.
It's important for me to let you know that the jumper actually had very specific references, completely different from what was ascribed instead. It was a tribute to Leigh Bowery, to his camouflage art, to his ability to challenge the bourgeois conventions and conformism, to his eccentricity as a performer, to his extraordinary vocation to masquerade meant as a hymn to freedom.
The fact that, contrarily to my intentions, that turtle-neck jumper evoked a racist imagery causes me the greatest grief. But I am aware that sometimes our actions can end up with causing unintentional effects. It is therefore necessary taking full accountability for these effects.
For this reason our company immediately apologized and withdraw the garment that produced such controversies. As you may have read from Marco in his letter, we are putting in place a series of immediate actions across the world that will increase inclusivity, diversity, participation and cultural awareness at any level and in any workplace. We are truly committed in facing what happened as a crucial learning moment for everybody.
I've always fought to grant myself and any other the possibility to be different. I've hardly been through this fight all over my personal life and I later brought it into my work. Here I always tried to give citizenship's right to the traditionally marginalized, to those who felt unrepresented, to those that history silenced or made believe they were worthless.
My aim, in which personal and political are intimately interwoven, has always been to turn the pain into a chant. Therefore I've always worked to let alternative imageries loaded with joyful inclusion emerge. Imageries able to celebrate diversity in every form. Imageries able to favour empowerment and self-determination processes. This is who I am and these are the things I believe in.
I really shelter the suffer of all I have offended. And I am heartfully sorry for this hurt. I hope I can rely on the understanding of those who know me and can acknowledge the constant tension towards the celebration of diversity that has always shaped my work. This is the only celebration I'm willing to stand for.