Gucci Pre Fall 2017 Lookbook
Alessandro Michele's new collection
Alessandro Michele does not design clothes, he creates magic. Through fabrics, cuts and seams takes us into another world, telling a fantastic story. With his PreFall17 collection, Gucci's designer sketches the outlines of a lysergic epiphany stratifing couture and sports elements, American preppy and bohemian mood, Tenenbaum's and David Bowie, Eastern iconography and seventies, Harold and Maude and Marie Antoinette.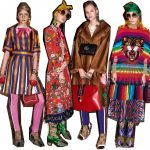 Those 86 looks have many kind of nature that live together in a harmonious dissonance, a mix of prints and layerings that captivates and excites. There are multicolor capes with feline heads, bouclé suit with a hood, long patchwork dresses, men's outerwear, ipergraphic knitwear, fur boleros, capes striped loafers boots with golden dragon, narrow waist beltbag, '80s style leggings, oversized bomber and multicolored hoodies sprouting from alpaca furs or ethereal chiffon dresses.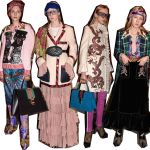 All over prints, fareast embroidery, stripes, flowers, hearts, guns, colors, rabbits, tigers, cats, snakes, dragons, panthers, spaceships jewelry sprinkled with crystals, flakes, pearls. Gucci embraces forcefully and decisively maximalist aesthetic, opulent, a bit naive and never cloying, conquering collection after collection.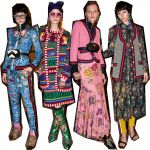 A curiosity? The lookbook's location for PreFall17 were chosen two historic Roman sites: the Old Library Cascianelli, an old bookshop specializing in heraldry and the history of art, and the Ancient Pharmacy of Santa Maria della Scala, a pharmacy dating from the 16th century.