Are designer suitcases the new grail?
From Rimowa to Gucci, luggage brands are targeting Gen Z and Millenials
2023 is a big year for the luggage industry. Now that the world has finally been able to turn its back on the pandemic, everyone is back on the road, and many, upon discovering their dusty old suitcases, have decided to go shopping for some new ones. According to GlobeNewswire, the global luggage market is expected to reach a value of almost $70 billion in 2027, up from $31 billion in 2020. Just as the tourism industry is expanding, and in the case of billionaires that of extreme tourism, wealthier customers seem to have shifted their focus from designer handbags, considered unfashionable in the face of the rising trend of quiet luxury, to luggage, and fashion taken notice. More people than ever are traveling, yet fewer can afford to do so comfortably, which is why investing in an expensive suitcase has become a new way of flaunting one's status quo. Rimowa, the famous German luxury luggage brand that creates thousands-dollars suitcases, and even Gucci and Louis Vuitton seem to have started looking for ambassadors for their luggage lines. Just as logoed handbags, once a symbol of exclusivity, have become part of the wardrobe of Gen Z and Millennials, luxury luggage is also attracting the attention of younger people thanks to online creators and under-35 celebrities.
Louis Vuitton, Hermès, and Gucci's unprecedented number of sales over the past few years have allowed the brands to grow exponentially, paradoxically making them appear less and less desirable to wealthier consumers. According to BoF, there are now 2.6 million Louis Vuitton bags, 2 million Gucci bags, and 50,000 Birkin and Kelly Hermès bags - 37% more than in 2002. The overexposure of the big names on social media as well as on the streets of capital cities - even in the form of fakes - has made their products seemingly accessible, motivating wealthier customers to look for a new exclusive object of desire to demonstrate their wealth. Rimowa, a brand born 125 years ago in Germany and acquired by LVMH in 2016, answers exactly this need. Until a few years ago, their suitcases remained relatively under-the-radar compared to the logos most adored by Hypebeast, while today the silhouette of the silver suitcase has gone viral on TikTok multiple times, as are its dupes.
With the appointment of ambassadors such as Rosé of Blackpink, Neymar, Mbappé, and Lewis Hamilton, and through brand collaborations with Tiffany, Moncler, Off-White™, and Palace Skateboards, Rimowa is discovering a client base that straddles Gen Z and Millennials, even becoming something of a meme on social media. Victoria Paris, the New York-based content creator with a following of nearly 2 million on TikTok, helped the #rimowa hashtag reach nearly 344.4 million views on the platform. Some of her videos spoke poorly of the brand instead of advertising it, but as we have learned in the past few weeks, even a negative experience can help a brand if the story goes viral online. Similarly, in the last year, Gucci has relaunched its luggage line with the opening of its first dedicated boutique, in Paris last December, and with the campaign La Magia del Viaggio, starring Ryan Gosling, also betting on the involvement of Gen Z influencers. Betting from the outset on the likes of Rihanna and the new creative direction of Pharrell, Louis Vuitton has in recent seasons given more media attention to its luggage, present in the latest menswear show and campaigns in much more eccentric and colorful versions than the French Maison's classic logoed trunks.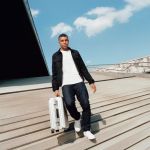 It is becoming less and less uncommon to see world-famous celebrities and musicians flaunting luxurious luggage. In the case of Tyler The Creator, the artist happens to post his collection of old-school luggage on Instagram, which includes classics such as Louis Vuitton Trunks and Gucci briefcases, but also more sophisticated collaborations, including his own Golf le Fleur x Globe Trotter. In the United States, even Jaden Smith seems to have taken a liking to luggage, having launched just this summer Harper Collective, a brand that produces suitcases with recycled plastics from the sea. Could luggage lines have become the new skincare? Pending the announcement of Rimowa's next collaboration, it's time to place bets on the next collaboration: Justin Bieber, Frank Ocean, Kylie Jenner, or Travis Scott?