Zara records all-time high in sales
Inditex group reports 17.5% increase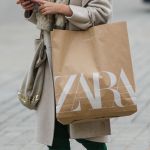 As WWD reports, Zara's parent company Inditex has a new milestone to celebrate. With total sales of €32.6 billion and a 17.5% year-on-year increase in revenue, as well as a 27% rise in net profit to €4.1 billion, the company recorded its all-time high thanks to a mass return of shoppers to physical shops, but also thanks to a surge in online spending, while fourth quarter sales rose 13% year-on-year to €9.5 billion. The results exceeded pre-pandemic figures, and although the company raised prices during the year to keep up with inflation, customers were not discouraged.
Despite the closure of 514 shops in Russia following the invasion of Ukraine and the subsequent closure of 82 Ukrainian shops, Inditex benefited from customers returning to its shops in 2022, with in-shop sales up 23% as customer footfall increased. Online sales continued to grow, increasing 4% to €7.8 billion in 2022, double the 2019 figure. Among brands, Zara sales increased 21%, Pull&Bear 15%, Massimo Dutti 4%, Bershka 10%, Stradivarius 13% and Oysho 4%. Regionally, Europe remained the strongest region with 47.5% of sales, while the Americas accounted for 20%, Asia and the rest of the world 18% and Spain 14.4%. Macieras said the company remains "confident' in China, despite a difficult 2022 for the Zara, Massimo Dutti and Oysho businesses.
Inditex even overtook H&M, which released preliminary first-quarter sales figures on Wednesday. Sales for the three-month period rose 3% year-on-year to $5.21 billion. Excluding Russia, Belarus and Ukraine, where the company has closed 2022 shops, sales were up 7% in local currency. Inditex's Spanish rival Mango reported record profits in results released on 9 March, up 20.9% year-on-year to 81.1 million euros. The company plans to challenge Zara in the US by opening 40 shops in the next two years.