Alessandro Michele has left Gucci
The divorce took place about eight years after his appointment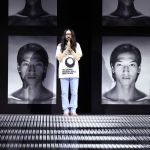 UPDATE 23.11.22: After rumors circulated in the morning, the official announcement of the split between Alessandro Michele and Gucci came in the evening. «There are times when paths part because we each have different perspectives,» said the Roman designer. «Today ends for me an extraordinary journey that lasted more than 20 years, in a company to which I tirelessly dedicated all my love and creative passion.» Michele leaves the brand some eight years after his appointment in January 2015, a decision endorsed by Gucci chairman and CEO Marco Bizzarri.
«I was lucky enough to meet Alessandro at the end of 2014,» Bizzarri said. «Since then, we've had the pleasure of working side by side as Gucci has charted its successful course over the past eight years. I thank Alessandro for his 20-year commitment to Gucci and for his vision, dedication, and unconditional love for this unique Maison throughout his years as Creative Director.» Announcing the divorce, Gucci said the brand's creative team will continue as creative directors of the Maison until a new organization is announced.
WWD has leaked rumors - its source, it reports, is anonymous and well-connected- that Alessandro Michele may indeed be leaving the brand. Statements are expected from Kering later today after WWD's source specified that Michele «has been asked to initiate a strong overall change in design» to relaunch Gucci's image. Another source said François-Henri Pinault, chairman, and CEO of Kering, is considering a change of pace for the group's flagship brand.
It would not be the first time that there would be an internal shakeup from Kering itself as happened at Bottega Veneta. Pinault might try to do the same with Gucci, even though Michele's last fashion show in September was one of the most important of the SS23 season. Gucci President and CEO Marco Bizzarri chose Michele as the successor to Giannini, who had left the company a week earlier. However, one source believes that «the honeymoon with Bizzarri is over and the relationship is no longer as strong as before». Perhaps indicative is the fact that Michele did not fly to Seoul for a repeat of Gucci's Cosmogonie show, scheduled for Nov. 1, which was canceled following the tragic events in the South Korean city. Since his appointment as creative director in 2015, Gucci had grown more than 35 percent for five consecutive quarters by the first quarter of 2018. This prompted Bizzarri to set a 10 billion euro revenue target for the brand in June of that year.
However, Kering reported last month that Gucci continued to underperform compared to the group's other brands, even though organic sales increased in the third quarter. Sales for the Italian brand were 2.6 billion euros, up 9 percent on a like-for-like basis, after a 4 percent increase in the second quarter. This was slightly below analysts' estimates of a 10 percent increase in sales. By comparison, organic sales of LVMH Moët Hennessy Louis Vuitton's fashion and leather goods division increased 22 percent in the third quarter. At the time, Bizzarri had taken over as Gucci's CEO in 2015. The appointment of Alessandro Michele was the obvious choice to stop Gucci's declining results. Despite Gucci's profound changes, the situation does not seem so different from 2015.