The mayor of Portofino has been accused of selling fake bags
In the tobacco shop next to the town hall, bootleg Louis Vuitton and Fendi sold for 75 euro
Portofino is one of the Italian villages most loved by tourists, both for its sea, always ploughed by bulky yachts, and for its architecture, a meeting of Genoese alleyways full of shops leading to an airy and sunny piazza. Here, in recent days, a controversy has stirred up quite a bit of controversy. The mayor Matteo Viacava has been accused of selling fake Fendi, Chanel and Louis Vuitton in the tobacco shop next to the town hall and the municipal police headquarters, covered by the excuse of a sign reading Handmade, made in Italy.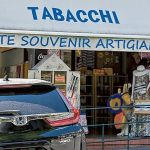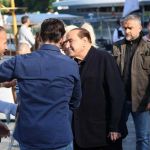 The price is 75 euros per bag, reports Il Fatto Quotidiano, to which Fendi, Chanel, and Louis Vuitton have asked for more photos to be sent to the maisons' legal departments. The mayor confirms the falsity of the accessories, while saying that they are produced by local artisans, and adds that the activity is not supervised by him. «I do boat maintenance, I am the mayor, I don't follow the shop directly.» Apart from this curious venture of selling fake bags in a place like Portofino, world-famous for its old money, La Dolce Vita aesthetic - in essence, the village is often frequented by VIPs, rich people, or tourists hoping to meet them - the mayor is also being criticised for other initiatives. The most recent, the inauguration of a street in the name of Silvio Berlusconi, the former premier convicted of tax fraud who owns a terrace in the borgo, and then the introduction of some strict rules against visitors wishing to sit on the ground or eat outdoors, a resolution for decorum that prohibits standing still only for those who, instead of spending thousands in the shops and restaurants of Piazza Martiri dell'Olivetta, want to enjoy the landscape.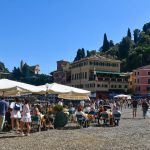 Perhaps driven by a desire to sell more fakes in his tobacco shop, perhaps because he likes to see crowds of people jamming through the narrow streets of Portofino, Viacava does not seem concerned about the overcrowding problem that worries the Ligurian municipality, quite the contrary. "We are closing a season with exceptional numbers," he said about the phenomenon of overtourism, "and these represent work for all categories, from souvenirs to luxury brands." Meanwhile, the bags have been taken off the shelves of the tobacco shop, and just this morning the prefecture granted a dispensation to name a street after Berlusconi, the first in Italy.