Is a collaboration between Travis Scott and Givenchy on the way?
It wouldn't be the first time the rapper plays on LVMH's home turf
Between the upcoming new film with Harmony Korine and controversies surrounding the upcoming Egyptian date, Travis Scott is definitely in the spotlight, and for the first time since the Astroworld Festival tragedy, it's on a positive note. Recently, the rapper also caught the fashion world's attention when he sported a Utopia-themed Givenchy T-shirt at Rolling Loud 2023 in Miami. The shirt was a sandy pink with a weathered look, paired with a sleeveless sand-colored hoodie, mesh sweater, and zippered cargo pants. Upon closer observation, there are details that hint at a new collaboration between the French fashion house and Scott: hieroglyphic-style "UTOPIA" text (echoing the album's Egyptian theme) and a small Givenchy logo, both made with 3D embroidery.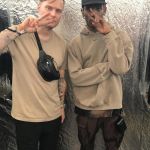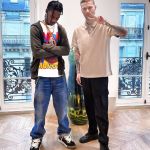 If Travis Scott is indeed launching Utopia merchandise (set to release on July 28th) with Givenchy, it would mark his first involvement with a luxury partner for an album release, although it wouldn't be his first collaboration in terms of merchandise. From tees with Virgil Abloh to the exclusive Astroworld line for Dover Street Market, not to mention the special T-shirt for Christopher Nolan's "Tenet", and, of course, the collaboration between Cactus Jack and Kim Jones from Dior, fashion is undoubtedly an area of interest for Scott, as evident from his street style. After the debacle of the Dior partnership, partly due to the media frenzy surrounding the Astroworld case, Scott might be returning to familiar territory with LVMH, the owner of Givenchy and Dior. This time, he could be working closely with a long-time friend, Matthew M. Williams.