How, with Pharrell, Louis Vuitton chose not to choose
Time, we hope, will tell if the choice was right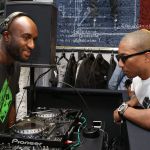 It has been about 15 months since Louis Vuitton found itself without its menswear creative director after the untimely death of Virgil Abloh, but more importantly, that is how long it has taken LVMH to find a worthy successor. Quite unexpectedly (you'd be lying if you said otherwise), Arnault and Beccari have identified Pharrel Williams as the right man to take the reins of a brand that has been too long orphaned of a creative director whose memory it still continued to cling to. Williams certainly needs no introduction, as they say in these cases his fame precedes him - to such an extent that already minutes after the official announcement of his appointment, which came after hours of rumors started by the WSJ, the ranks of those opposed to the choice made by the brand were well nourished. Today, a creative director does not have to know how to sew or have a properly academic background, especially since there are so many celebrated examples that confirm this, but what a creative director must have without a shadow of a doubt is a personal vision, an artistic direction toward which to lead the brand whose reins he or she has taken. Pharrell, a world-renowned producer as well as a renowned skincare expert, undoubtedly represents one of those figures who have shaped a generation, one of those names, along with Abloh himself, whose impact has been strong and undeniable.
Y'all thought LV was gonna pick a regular designer Vs a cultural emperor after virgil?

That brand doesn't want a designer they need a curator… everyone will drop what they doing to design for Pharrell LV. Pharrell also is the godfather of all of this so who better

— chris chance (@madeintheurl) February 14, 2023
It is no coincidence that already years ago, in 2004 and 2008, Louis Vuitton chose him for two collaborations, as did Chanel, which in 2019 co-starred in the first real capsule created by Williams. Pharrell is a tastemaker indeed, but can he be a creative director? «His creative vision beyond fashion will undoubtedly lead Louis Vuitton toward a new and very exciting chapter» said the brand's CEO and President Pietro Beccari commenting on the appointment and hinting how his arrival will start a new artistic journey for the brand. For its part, Louis Vuitton has never had a past deeply linked to fashion, so much so that, as Andrea Batilla pointed out on Instagram, its rise to the Olympus of luxury fashion can be traced mainly to the work of Marc Jacobs, with whom, among other things, Pharrell had collaborated on an eyewear collection later taken up by Abloh himself in one of his first collections for Vuitton. It is precisely this idea of continuity, that between the founder of Off-White™ and that of Billionaire Boys Club, that seems to have moved the minds of Beccari and Arnault in their choice of Williams. A choice that today, while more than a few people still regret the missed appointments of Martine Rose and Wales Bonner, appears to be the most obvious and easy one, but also the right one from the perspective of continuing to transform Louis Vuitton into a multidisciplinary brand, a conglomerate of ideas and suggestions that go beyond fashion itself, in continuity with the path started by Virgil Abloh after his appointment.
« What I would be more impressed by is the next candidate for a house that gets hired as the next head designer has this, like, multidisciplinary background and comes from, you know, not a fashion school and thinks in a different dimension and him get a shot» declared Abloh in 2021 in an interview with Pharrell himself, opening the door, unknowingly, to the passing of the baton that was staged yesterday. It should not be forgotten, by the way, how only a few months after Virgil Abloh's passing, the former CEO of Louis Vuitton had already in fact anticipated what was seen yesterday, as also reported to WWD in an article dated January 2022: «[The brand] is open to appointing someone who does not identify as a fashion designer, especially since Vuitton is increasingly active in areas as diverse as gaming, sports and entertainment». As much as the choice of Pharrell may seem like a jarring note, especially when compared to the one made by LVMH competitors with Sabato De Sarno's appointment, it should be put in the context of a fashion brand that may not want to be one at all costs, but has preferred to put someone whose vision can be mirrored in the helm of the ship to that which guided Louis Vuitton in one of its most successful periods