A Chat with Gramm Manchester
The streetwear label whose designs were allegedly copied by Off-White
Four years ago, streetwear label Gramm was born out of the northern English city of Manchester by creative AK Williams. Since then, the brand has carried a creative commitment of mannerisms and a mentality inspired by technology and inner city youth culture. Taking advantage of the streetwear culture and successfully adjusting it to their taste with drops and capsule collections titles like After School, youth club etc. Gramm has taken the aesthetics of what is generally known as the 'inner city', conceptualising and making it work for them throughout their creative process. This has landed them on the general radar of Gen Z streetwear, showcasing at platforms like White Street Market, pop-ups in Paris and most recently also on the radar of designer Virgil Abloh who was accused of stealing a few designs from the brand last season.
We sit down with AK to discuss the gossip and success the brand has since been faced with.
#1 What was your main motivation behind the label when you first decided to launch in 2015?
The label was born through frustration and inspiration, I just wasn't happy with the clothes that I was seeing on the market, I saw things that I liked but nothing that I loved. I wasn't necessarily motivated to start a brand, I just wanted the wear my own things. People ended up liking my designs and my ideas and things just organically grew from a hobby to business.
#2 Obviously, the brand itself has a young unique street voice, but the name Gramm, where did it come from?
I was just thinking of something that would roll of the tongue and be short and sharp, I also knew that it was gonna be my vision and my branding that would let people know what the name really meant, the name wasn't that hard for me to pick I just needed to project my vision unto it.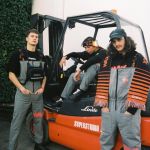 #3 From wax inspired collections to 'after school' capsule collections, you seem to always have a clear and unique idea of what you want for the brand, but where do you get your inspiration?
Sometimes my inspirations can stem from the smallest of things, sometimes objects, places, phrases and even memories. My earliest pieces were all inspired by my environment, growing up in Manchester and a lot of the things I experienced there but I can draw inspiration from several places. Normally when I'm on the train or the car with my headphones, it's sometimes nice to get lost ha.
#4 If you could use one phrase or sentence to describe the aesthetic or aim of the entire label, what would it be?
Gramm.
#5 I have to ask you about Diet Prada's discovery of Off-White's alleged imitation of some of your pieces. How did that make you feel? Did you take it as a compliment or an insult?
Completely being honest we didn't really care, it was a bit of weird situation. When pictures from the OFF-White show dropped a few of our supporters DM'd pictures and were saying' Virgil's copied Gramm' etc. We just laughed and carried on maybe because we were preparing for our Milan and Paris pop-ups it was completely forgotten about straight away. However, by the time we arrived in Paris and we saw that Diet Prada mentioned it we were just like ..this ...again ... we didn't really take it as a compliment or an insult it was just a bit whatever, I understand that this is the industry I'm in and these things happen all the time so I can't really dwell on them too long! But Yo, Great promo! (Laughs).
#6 As a creative in the streetwear industry, what has been one of your biggest struggles since the launch of your label?
I wouldn't say I've had a great struggle. I've just had consistent struggles over time being a self-taught creative, running a business comes with its own challenges and that means a lot of ups and downs, every day is a new day and new lessons are learnt I just have to realise that I'm blessed to be doing what I'm doing.
#7 Gramm is constantly dropping new pieces and capsule collections but can you give us an idea of the next big thing we can expect from you?
We've got a few things lined up for the summer, we're gonna start doing more with the Gramm: SOUND which will be our showcase of what's going on in Manchester musically. We got some collabs dropping as well! Also, I will be stepping away from dropping collections. Forever? I don't know, but for now - yes. I'm just at a stage where I want to create and do different things, I'll just be dropping pieces throughout the year and having fun with it!