Drake announces the drop of a new single wearing a pair of adidas trackpants
Fans cheer and wonder: will he really leave Jordan Brand for the 3-strips label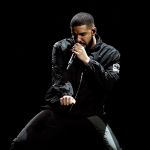 Ok.
The real news is that, surprisingly, Thursday evening, Drake appeared unexpectedly during the set of Majid Jordan in Toronto and told the crowd that he had returned to the city to finish his new album, also announcing:
"I got a new single dropping tomorrow night, just in case you got some free time".
The title of the song is not known at the moment that the star intends to launch on Friday, but many speculate that it may be the single with the successful producer Murda Beatz, recorded last month during an Instagram Live session.
All great, but the question that is becoming increasingly pressing is another: Drake will leave Jordan Brand for adidas or is it just a fake news?
Yesterday on stage he wore a pair of adidas tracksuit pants and YEEZY 500 sneakers, while in recent days he mixed pieces of both brands with Nike and Jordan, confusing ideas to everyone.
Is it a strategy or, simply, Drake alternates and mixes the garments without always adopting a mono-branded look?