The Vatican museums, the Ferragnez and influencer cultural marketing
Do museums need influencers or influencers to need museums?
Yesterday morning, Chiara Ferragni and Fedez took a private tour of the Vatican Museums and Sistine Chapel publishing a total of ten photographs and a video on the same day. Shortly after, an Instagram user cast the first stone commenting: "But is it not forbidden to take pictures in the Sistine Chapel?" – a phrase that sparked the usual shitstorm on social media amplified by newspapers that even described it as a "storm" and a "polemic". Ordinary administration for the couple. But the result for the Museums was important: that same afternoon the Sistine Chapel appeared among the trending topics of Twitter. Ferragni and Fedez were not the only two celebrities to celebrate on Instagram the beauties of the Museums: in recent days, among others, Daniele De Rossi, Isabella Ferrari, Salvatore Esposito and Ludovica Bizzaglia had immortalized them on their respective social networks in view of what is a marketing influencer strategy aimed at reviving a particularly important sector in Italy and that has been affected by the effects of the pandemic of Covid.19.
It is clear that the controversy does not exist: it is enough to visit the Vatican Museums' website to see that a private tour for four people lasting three hours costs 80 euros per visitor during which, moreover, it seems that the photographs are also granted unlike regular visits. Certainly nothing inaccessible considering the uniqueness of such an experience. It is interesting rather that two public figures such as Ferragni and her husband must defend themselves against accusations of elitism just as they are promoting an institution such as the Vatican Museums, which suffered heavy economic losses during three months of forced stoppage. It is also doubtful that the Ferragnez and other celebrities involved in the promotional strategy have profited on their guided tours: the tour of Ferragni and Fedez was offered by the company If Experience, thanked in the caption of the posts, while those of Ludovica Bizzaglia, Salvatore Esposito and Isabella Ferrari were offered by the Museums themselves. Similar occasions, moreover, serve as much the visibility of celebrities as well as that of museums: not always a mutual exchange of favors is a blealic commercial operation.
Why did the Vatican Museums rely on influencers?
Last year, the Vatican Museums were the third busiest museum in the world, with a total of 6.9 million annual visitors. The Covid-19 wiped off all the attendance in a short time, with a series of mass cancellations dropping their visitors from 18,500 to just over 1600 on the day of the post-lockdown reopening. A drop in visitors that also means an economic crisis, especially given the reduction in tourist flows from abroad - which is why the strategy of influencer marketing of the Museums has focused on a purely Italian audience, trying to reactivate its engagement. According to an analysis by UNESCO and ICOM, in fact, 13% of the world's museums are at risk of closure due to economic problems. To make up ground, they will need to reinvent themselves, including focusing on premium proposals such as private tours or special visits - a strategy that emphasizes the value of experience rather than the mere volume of tickets sold.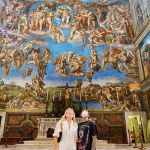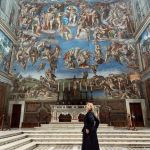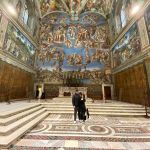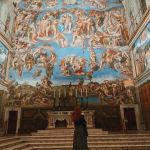 Among other things, the combination of museums and influencers is not something new: already two years ago the Archaeological Museum of Naples had hired The Jackal for the production of digital promotional content, just as Card Musei Bologna had relied on Luis Sal to advertise its subscriptions getting an increase of 370,000 views on all digital platforms and a 62% increase in attendance among young people aged 13 and 24 years old. And as early as 2016, the Renwick Gallery in Washington had achieved great success with the contemporary art exhibition Wonder set up precisely to be Instagram-friendly with signs encouraging the public to take photos tagging the museum.
Just like the luxury retail sector, museums are largely dependent on international tourism. But if fashion brands can implement more direct and geographically extensive strategies towards their customers, launching new collections, intervening on production volumes or investing in massive marketing campaigns; the room for manoeuvre for a museum is much more limited. In other words, for any cultural institution, including the ancient and venerable Vatican Museums, it is a smart move (in every sense) to seek solutions to one's problems thinking within that context of digital culture that already permeates every other aspect of our lives. If their strategy were to succeed, Ferragni and Fedez's shots inside the Sistine Chapel could mark the beginning of a new way of enjoying art and promoting the culture of our country.