Red Bull TV Presents The Fourth Phase
For adventure lovers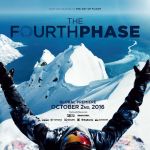 Pills
September 30th, 2016
For sports and uncontaminated nature lovers, we have a really special tip for the weekend.
Red Bull Media House presents The Fourth Phase, an innovative and compelling action movie that will bring you to water's fourth phase discovery.
The movie tells the story of iconic snowboarder Travis Rice, who decides to go on a trip around the amazing lands of North Pacific, discovering far more than just an unknown and immaculate land.
The idea came from a meeting between Travis Rice and bioengeneering professor Gerald Pollack, according to whom water has a fourth phase in which it becomes 'structured water' (liquid crystal), has it happens for example when glaciers melt. Thus, Rice decided to follow North Pacific's water cycle for 26km, unveiling amazing landscapes made of ice and snow.
"Our intention was to take the public on an actual journey, with its highs and lows" director Jon "JK" Klaczkiewicz stated. "The movie isn't just about incredible snowboard action in remote corners of the earth, it's also a story filled with human emotions"
Many among the world's braver snowboarders took part to this epic mission, Mark Landvik, Eric Jackson, Bryan Iguchi, Pat Moore, Mikkel Bang, Jeremy Jones, Victor de Le Rue, Ben Ferguson and many others.
From Wyoming's uncontaminated lands, through the Pacific Ocean, the Japanese Alps, Russian volcanos and Alaska, the team faced everything that came about on the open road, losing theirselves in nature.
The result is a movie that will capture anyone who's passionate about adventure, about nature and, in other words, about life.
On October 2, day of its global drop, The Fourth Phase will premier online at 9.00pm. The public will be able to see it on Red Bull TV.