LAZIOsound's call to young local artists
The program to enhance musical excellence in the Lazio Region is back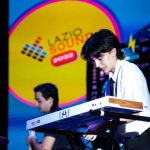 After the participation of 5,000 artists in the first editions, the financing of more than 30 musical productions, 50 concerts and tours in Italy and abroad and after 3 editions of the campus and 2 of the festival at the foot of Santa Severa Castle, LAZIOSound returns in 2023. A program of the Lazio Region in support of music under 35 years articulated throughout the regional territory over the last 4 years, including public announcements for actors in the sector, live events, concerts, master classes, productions and a competition for musical excellence called "LAZIO Sound Scouting". A call for young artists from the region to be involved in 12 months of opportunities: live shows, touring, training, comparisons with top professionals in the industry and as always a call for all emerging 7-note artists under the age of 35 with domicile or domicile open is the Lazio region.
The program to select and promote the musical excellence of the region is open to all bands, composers, singers and musicians between 14 and 35 years old in Lazio. Thank you to the support of the Lazio Region's youth policy, in collaboration with LAZIOcrea and a key partner network, the programme will provide the basic tools to nurture emerging talent throughout the region. Six categories are involved – Jazzology, Urban Icon, Songwriting Heroes, I Love Mozart, God is a Producer and Borderless – for a call aimed at reaching out in a capillary way to the entire regional territory and using its resources and creativity in the name of music to increase, regardless of genre and cultural roots.
The Jazzology category is dedicated to young artists with a passion for Jazz, Swing, Nusoul, Funk, Soul, Fusion, Progressive, Groove, Interplay, Phrasing, Genius and Experiment, while focusing on the latest trends in Rap, R&B, Trap and Urban the Urban Icon category where artists with a quick pen and sharp rhymes can sign up and compete. Songwriting, Indie, Pop, Rock, Metal, Folk, Reggae find their place in Songwriting Heroes, while Classical, Contemporary Composition, Instrumental, etc. are destined for the large section of I Love Producer. Electronic, Dance, EDM, Techno and all the music that fills club sound systems will travel in the God is a Producer category, while experiments without categories, out of the box, but also specific styles, recycled instruments, unusual ensembles, are possible to compete with Borderless, a category without categories. LAZIOSound is therefore a challenge, but also a growth path that aims to intercept trends, sounds and novelties under the aggregate sign of music.