How Zegna will use AI to create looks for its customers
Artistic director Alessandro Sartori tells us about the meeting of tailoring and data learning
At the beginning of the presentation of Zegna X, the new digital tool developed by Zegna together with Microsoft over the past two years, a distinction was made between retailing, i.e., pure selling, and clienteling, which consists of creating a relationship between brand and client. Now, in order to maintain this relationship and give the end user a complete, fluid and total faculty of choice a simple archive is not enough - which is why Zegna X was born, an integrated and transversal AI-based system that not only makes the customer choose and find their designs, selecting fabrics and colors, allowing them to visualize the complete outfit in minute detail; but that gives the brand's style advisors and its artistic director direct access to every piece of information about every sale of every customer, with the ability to refine, refine and optimize the offer. After all, for a brand that already works with the best materials and craftsmen in the world, the additional luxury that can be offered to customers is precisely the freedom and convenience of choice. We spoke with Zegna's artistic director, Alessandro Sartori, immediately after the conference to get some hot takeaways: «This tool improves one fundamental thing: people's style», he said, first and foremost. «It gives you the ability to imagine yourself dressed a certain way even if you don't phisically see the garments. So if you want a certain garment but have no cognizance of how it looks on you, there you can see them worn. Whereas before you would go into the store and you could only appreciate a garment if you saw it and only if it was available in your size, today you can do that with Zegna's entire archive that is constantly being updated with styles that come in and out of the collection. Then in case there are no more sizes or no styles in a certain color, we can create a single garment for the customer».
If a customer, say, had already purchased shoes and pants of a certain color and material, the service will allow him to immediately find the jacket to match and, if the jacket does not exist, to create it from scratch. «It is like our made-to-measure service, but hooked into the styling experience. Not only that, all available fabrics, from show to collection, are viewable in the archive. You can scroll through them and choose from a constantly updated catalog based on what's in inventory - which includes everything up to the minimum length to make a garment. The database is always updated in real time, twenty-four hours a day». On closer inspection, beyond the products that come out in the individual collection and do not change («It's one thing to order something that we want, it's another to create a garment that we don't want and goes outside our stylistic canons», Sartori points out) the service is intended, rather than giving many options to the customer, to enable the customer to create his own options. Of course, as mentioned, the utility of the new tool goes two ways. Sartori explains: «As a artistic director, I have the information about what people want in real time. Instead of having a sales briefing, as I already have today, which complements my style briefing, where I am told by the team what is selling and what is not selling, I possess much more accurate information. It's not an end-of-month or end-of-season report. If I push a button this afternoon I can see everything that has happened in the last six months».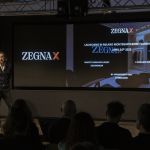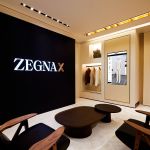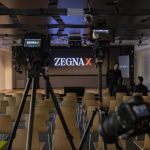 Whereupon it comes naturally to ask how this shift from a descriptive technology, that is, one that reflects what already exists, to a prescriptive technology, which instead hypothesizes what could be by analyzing statistics and data, might impact the creativity of collections. But Sartori has no doubts about this: «Collections must be one part rational and one part irrational, one part thought out and conceptually logical and one that is pure creativity. The creativity will remain pure creativity, but now the logical part can make use of better information». It is clear that Zegna X will become one of the main tools on the brand's made-to-measure service, which to date accounts for about 10 percent of the total business but which the brand prefers to grow organically as an additional service available to customers. «Suppose a customer orders a mustard-colored overshirt, but also wants a sweater, pants, and shoes in the same color. That's four pieces in total, and the sizes are available partly in our store in Madrid and partly in Rome. When you click, the pieces are assembled and shipped at no extra charge. The four products are put together and arrive at your home. However, if you want a certain pattern in a different color or material, you can check availability, and you can order existing garments with a jacket that is made-to-order instead». Of course, this does not mean that availability is infinite-but the very constant link between warehouse and store eliminates any possible inaccuracy: you see exactly what is there and when it is there. «If there are no more materials, the style disappears, depending on the availability of the fabric» Sartori concludes. «But for example if a garment is not in this store, or is not available, I can make it to measure. I will then each season add things and take things away. Of course we will always stay in our stylistic canon».