Diesel and Bottega Veneta's illusionist looks
Glenn Martens and Matthieu Blazy focus on avant-garde textiles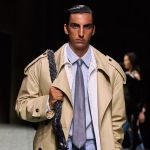 This fashion week, the Italian fashion industry has once again retained its title of heroine of sartorial innovation. This time, however, the credit falls on two foreign designers: Matthieu Blazy and Glenn Martens. The former, now in his third collection for Bottega Veneta, took a chance on the brand's hereditary savoir-faire in the field of leather goods, displaying an Italian-style luxury that hides secrets revealed only by touch; the latter, who has been working at Diesel since 2021, re-proposed the y2k aesthetic, mocking trashy-look lovers by distorting the simplicity of denim with latest textile technology.
Having already established Gen Z as its market target through luscious accessories with a retro and Instagrammable look, last week Glenn Martens was finally able to bring his fantasies to life. Experimenting with an originally modest fabric like denim, there was clear technological exhibitionism in his new 72 looks: beyond patches and rips, the devoré denim gained a new look thanks to shearling reinforcements and shades created with transparent woven lace panels. The denim motif was repeated in an illusionist key on dresses, decorated with crystal engravings, and on pinstripe suits, on which the bleached look was overprinted. What was silk was denim, and what was denim was lace.
Three days after Martens' denim-centric show - and four after predecessor Daniel Lee's Burberry debut - Matthieu Blazy brought attention back to himself through Bottega Veneta's cutting-edge leather goods. The nubuck leather, already used by Blazy for his Fall Winter 2023 jeans, then worn by Kim Kardashian for the September cover of Interview magazine, took center stage in the collection disguising itself as cotton, knitwear, and fur for socks, shirts, and pullovers. A trick discovered late in the show, Blazy's textile substitution is almost imperceptible unless seen and touched in person. In recent years it has become increasingly difficult for a designer to impress his audience, and especially to entice a potential clientele to invest in his brand. Martens and Blazy, at the end of a fruitful year for both of them - in 2022 Bottega Veneta recorded a 16% growth in sales, and Diesel 14% - have decided to give in to temptation with these games of illusion, perhaps knowing that, in a market saturated with cashmere and beige and blue jersey, a little magic is preferred.