Cartier has just opened a new factory in Turin
And it is fully supplied by solar and hydroelectric panels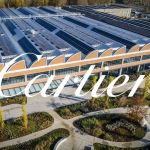 The renowned luxury jewellery manufacturer Cartier has just opened a new production site in the Regio Parco district of Turin, a factory covering more than 30,000 square metres and aiming to double Cartier's Italian production capacity. Having opened in January after a two-year renovation period, the factory currently hosts 360 employees, out of 450 who could operate there. The building, built in the 1970s, was bought by the company when the plant previously leased by Cartier had reached its staffing limit. «The question was either to construct from scratch in a green eld or use existing buildings,» said CEO Cyrille Vigneron, but given the large number of existing factories in the city of Turin, the choice fell on this ex boiler-making plant. Among the products created at the new Cartier site are the Ecrou and Juste Un Clou bracelets, the Clash de Cartier ring and the new 1950s Grain de Café collection.
During construction, the company made a serious commitment to make the new factory sustainable, covering the roof with solar panels that produce 20% of the plant's energy requirements, and deriving most of its energy resources from the hydroelectric plants located in Melazzo. In addition, Cartier has provided employees with numerous eco-friendly amenities, including electric bikes and cars, and various wellness spaces, such as a gym and an organic vegetable garden which ensure the workers' physical and mental health. Among other initiatives, in a couple of weeks the company will kick off its new Officina dei Talenti, a course in jewellery manufacturing for beginners and experts seeking retraining that forms up to 35 jewellers a year. The project is underwritten by the 'Mani Intelligenti' programme of the Piedmont region, and the Italian association Federorafi, and collaborates with several engineering and sustainability schools in the region.
In an interview with WWD, CEO Vigneron said that construction works have also began in January in the city of Valenza, where Cartier is building a new production site that is scheduled to open in 2024. These two new facilities, which are part of the nine production sites that Cartier has in France, Italy and Switzerland, will double the brand's jewellery production in Italy, confirming the strong ties that bind the company to this Country.