How we envision Sabato de Sarno's new Gucci
The Valentino veteran will be called upon to offer a new vision for the brand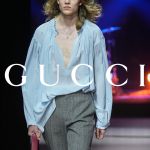 Now that Gucci has a new creative director, Sabato De Sarno, the time for speculation is officially opened. It is clear that the decision to appoint a new creative director is by no means taken lightly, especially after such an iconic tenure as that of Alessandro Michele. The path taken by the brand, however, seems to want to declare that the time for a decisive creative turn has come. In the absence of precise data or statements (after all, De Sarno's first collection will be presented in September) we can only proceed with theories from what we know. First of all, De Sarno is a name perhaps new to the public but fairly well known to insiders: in fact, the designer is a veteran of Valentino, a brand for which he has held positions of increasing prominence over the past 13 years (practically an eternity in the fashion world) culminating in his appointment as Fashion Director of the brand's men's and women's ready-to-wear collections some two years and seven months ago. This enormous amount of experience specific to the world of Valentino must not have gone unnoticed by Gucci's top management at all: under Pierpaolo Piccioli, after all, that process defined by the brand itself of re-signification that, here, we might call «soft storytelling approach» whose secret formula, so to speak, could be the drug Gucci needs to reinvent itself and return to market growth at the exponential rates of four or five years ago.
But how could we define Valentino's «soft storytelling»? In very succinct terms, it is the way in which the brand has re-signified some of its identifying connotations and design language (romanticism, the genderless languor of couture, colors and silhouettes) in an extremely visually recognizable way, creating a unified storytelling capable of giving meaning and cohesion to the whole, but without pressing the accelerator on the discursive side, without the storytelling itself ending up engulfing the final product. It is no mystery that the upper echelons of Kering have now determined that the present and future course of the brand will take place under the banner of timeless luxury - a creative style that with its theatricality, its penchant for pop and camp, and its radicality in some ways had both made and unmade Alessandro Michele's success. In the future, what the public will ultimately desire is the so-called investment piece, that is, an item capable of maintaining its validity both on the material level of longevity and durability, on its versatility that allows it to traverse seasons and fashion trends without becoming obsolete in six months, and on its ability to actually be worn by those who buy it at prices that are not exactly low. In this sense, while brands from the Kering stable such as Saint Laurent and Bottega Veneta have already worked extensively to place themselves in the timeless category, Gucci itself had lagged behind, a prisoner of a creative bulimia that has become a bit rowdy in recent times, in which even a simple men's suit became a costume with mega-brims, mega-straps, flare pants, bejeweled buttons - and was, in short, a difficult product to process for the traditional luxury customer who wants to dress well without risking with exaggerated proportions, ubiquitous logos, and hyper-opulent embellishments. Let us remember, after all, that the VICs of many brands buy their clothes for elegant receptions and business situations, are of a certain age, and are looking for a quality product that they will not tire of after two months.
Sabato de Sarno is Gucci's new creative director. No I have never heard of him. His first collection will be in September. No this is not the Onion. This is PEAK Gucci.

— Christina Binkley (@BinkleyOnStyle) January 28, 2023
Gucci itself, moreover, is a brand that thrives when it takes sharp creative turns: just like De Sarno, Tom Ford and Alessandro Michele were surprise appointments that radicalized the brand's language in one way or another; remaining in the Kering sphere, on the other hand, elevating a fashion or design director from the very long experience spent behind the scenes proved to be a very happy choice in the case of Mathieu Blazy and Bottega Veneta. The unexpected choice of a creative director is, paradoxically, so recurrent in brand history that journalist Christina Blankey called it «peak Gucci». And logic tells us that what worked once will surely work a second time. If the Gucci collection we saw in Milan represented a palate cleanser compared to the strong flavors Michele had accustomed us to during his own creative direction, but also a return to order and to a certain form of grunge minimalism, from De Sarno we can reasonably expect a general linearization of Gucci's precious and very long heritage, which will certainly look back to the Tom Ford era while cleansing it of any excessive licentiousness and rather taking it toward more sublime territories that, in different terms and with a different vision, a brand like Saint Laurent is touching. In this sense the clean, fluid essentiality learned in his long years as Fashion Director of Valentino will be an invaluable cultural asset for the brand and its future collections.