Is fashion getting tired?
«When you're finished changing, you're finished»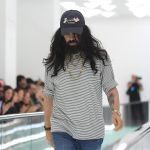 Thirteen years ago, when Takahiro Miyashita announced to the world that his cult brand Number (N)ine would be shut down, he said, "When you are done changing, you are done". A motto that has found more than one application in recent months. From the recent divorce between Alessandro Michele and Gucci to the final closure of Raf Simons and the sale of Tom Ford, the last few weeks have been marked by the conclusion of narrative strands characterized by the theme of repetition and fatigue. Tired was the creative output of Simons, a brand that has now distanced itself from youth subcultures and also lacks a precise position in the luxury market; "brand fatigue" was used to describe Gucci, which after seven years of tumultuous growth has spun around on itself in a spiral of excess and predictability; and fatigue can also be used to describe Tom Ford, whose revered name and mega-luxury menswear sells well but whose conciseness was lost some time ago. In all three cases, and with different contexts and outcomes, creative stagnation has led to system reversals that were as undesirable as they were necessary. But where are we heading?
After all, fashion is tied to its era, and when that era changes, fashion must follow - nor does any brand fatigue do any harm. If the fatigue around Marc Jacobs, for example, led to the birth of Heaven two years ago, one of the most interesting fashion comebacks in recent years, the closure of Raf Simons has made room for new, young brands that have more to say without wasting space in the market by keeping the brand alive without its creator; Michele's exit from Gucci, on the other hand, like Tisci's from Burberry, will make room for alternative creative visions that, frankly, have been needed for some years. Even the two celebrated Roman designers, as well as Simons, have, to use Miyashita's words, finished with change - with Jacobs finding new life with a youthful and current line whose freshness clashes with ready-to-wear reduced to a catalog of 85 monogrammed basics. Markets respond well to the change that follows fatigue. In the case of Burberry and Gucci, the shares of both brands rose immediately after the departure of their creative directors.
It always comes in threes.

Riccardo Tisci leaving Burberry

Raf shutting Raf Simons

and now…Alessandro Michele exiting Gucci.

— OEE (@onellednacot) November 23, 2022
But is it really just a question of "commerciality vs. creativity"? Perhaps the issue is much more complex than that. Gucci, for example, is a brand with a cyclical history: as early as the late 1980s, during Maurizio Gucci's hapless management, the brand's products had become undesirable due to the wild licensing that put monograms and logos on every imaginable piece - maximalism that was first curbed by Dawn Mello and then inflated by Tom Ford. Ford's lascivious, decadent looks had in turn led to fatigue in the early 2000s, and Frida Giannini had steered the brand in a new, classicist, and commercial direction that eventually felt stale until Michele finally turned it around once more in 2015 and fell into the trap of fossilization eight years later. Now we are willing to bet that the next designer will usher in an era of minimalism and a return to craftsmanship - similar to what has already happened at Bottega Veneta with the rise of Matthieu Blazy. However, I feel that we are returning from the abstract values of "luxury as narrative" to the concrete, tangible and qualitative values of "luxury as authenticity", where grand narratives, uplifting messages, and value systems are not used to sell cheap sweatshirts and trainers, but where the equation of creativity and quality in the final product is the winner. Many of today's great independent fashion designers - think Rick Owens, Dries Van Noten, and Yohji Yamamoto - have been repeating themselves in many ways for decades: Why do not they get tired? The answer to this question is given by Owens himself, who in an interview with Le Temps in 2007 when asked if his work was repetitive, replied as follows:
«I appreciate the whimsy and joy in creators that experiment and fly off into other directions, but i chose a very straight path for myself, for better or worse. I was always more interested in the construction of clothes than the message of clothes. [...] I don't have an imaginary world. I try to put my real world on the catwalk. [...] There was nothing on the autumn catwalk that was not for sale in my shop. Or that I wouldn't consider a serious proposal from me.»
Elsewhere, in the world of commercial fashion, the advance of 'luxury as authenticity' continues: Celine and Saint Laurent, two brands that have never engaged in conceptual or creative acrobatics, are posting huge gains; Hermès, Zegna and Brunello Cucinelli, to name two examples of independent brands with a more mature clientele, can boast positive financial results despite inaccessible price points. Not to mention Pinault, the CEO of Kering, who said in February that he wanted the brands in his portfolio to focus on a more classic and timeless approach to luxury: fewer items that are so tied to a specific time that they become obsolete in three months, and more products that last decades and inspire confidence. Below the luxury segment, in the premium market, brands like Aimè Leon Dore, Studio Nicholson, Our Legacy, and Officine Générale are quietly thriving thanks to a young audience that is fascinated by high luxury prices, craves freshness and novelty, but also remembers what happened after the streetwear hurricane when they found their wardrobes full of logo print sweatshirts and over-the-top trainers that now seem almost childish. The streetwear hangover and the scars left by the pandemic have brought Millennials back to the more concrete and tangible sides of life, as have the astute members of Gen Z who live off gimmicks on TikTok and bypass the price problem, by consuming dupes, fakes, second-hand clothes or simply Shein and fast fashion - that is, consuming at full speed without spending huge sums in boutiques or becoming direct luxury customers with no qualms about buying fake goods. It is no coincidence that BoF has called the age of Gen Z 'the age of realism, with all its implicit contradictions.