nss magazine's predictions for fashion in 2023
The future cannot be written but can be imagined
Since ancient times, all people have thought about the future. Knowing what lurks beyond the event horizon, something that is preordained but always seems so close is a universal pursuit - and when it comes to money, the anxiety of guessing what will happen increases a hundredfold. So it is in fashion, a field that seems predictable but always remains unpredictable, and where everyone would love to have the power to know what will and will not go next season. To be fair: Everyone who works in the industry knows that what is news today was a rumor yesterday. And when a bombshell goes off in the media, it never comes suddenly, but its success has been incubated over many months.

Nevertheless, it remains a basic instinct even for us to know what is hidden (be it by the laws of time or the work of the industrious PR people who never sleep) and so today we present our predictions for fashion in 2023.
Cool kids don't wear sneakers anymore

Moccasins? Boots? Mules and clogs? We'll be seeing a lot of them. But in the coming months of 2023, sneakers will be out. We have seen too many of them, too many times big brands have shamelessly copied the Converse and Air Force 1 silhouettes without creating anything original, too much is also what they cost to be identical to their cheaper, "real" counterparts. The overdose of trainers in recent years has cloaked them in a youthful aura, and except for a few models - hits or others that will become the new classics (see point 2) - it's not as cool to wear them as it once was. We have reached the age of leather shoes.
The adidas Sambas are be the new Dunk Lows

You heard us. They are already huge - but by the time they emerge from the first wave and enter the collective consciousness of the mainstream, the Dunk Low will be the fossils of a bygone era. 2023 is for the Sambas.
Tartan will be the new Intrecciato

Call it a return to classicism, call it a spin-off after the demise of Vivienne Westwood, call it even anticipation of Daniel Lee's Burberry or an escape from the monotony of solid colors, but tartan with all its hundreds of possible color combinations, its absolute wearability, its cultural connections that range from punk to dandyism, and the confidence it exudes (besides Bottega Veneta's Intrecciato, it is perhaps the only pattern that cannot be accused of cultural appropriation), will make it the panacea for all the ills of the coming year. Without mentioning how precisely tartan, between nostalgia for the past, the search for heritage brands and the redefinition of quiet luxury, could supplant precisely the woven as a decorative motif witnessing a more intellectual approach to fashion.
"Copy & paste" streetwear brands are over

Have you started a brand that prints T-shirts and sweatshirts? You think you are not copying Virgil Abloh, but are you really copying him? 2023 will be the year when this brand will cease to exist. The public today is looking for two things: Originality and quality, and let us face it, with the level of saturation we have reached, hoodies really are all the same.
Old historical Italian brands are in

Why should we turn to exciting newcomers when we have (metaphorically speaking) such excellent menswear manufacturers behind us? All those historic Italian brands specializing in formal wear, usually associated with our grandparents' generation, will turn their name into a guarantee of quality and be a hot spot for those who want to escape the repetitiveness of hyper-commercial fashion.
TikTok trends are over

Because of TikTok, everything is trending at the same time, from 80s to early 2000s looks, from emo to soft boys, from skateboarders to surfers. In 2023, fashion will recover from the lurch and chaos of TikTok, and trends will return to being less but more importantly not chasing the fickle algorithm of Gen Z's favorite app.
Riccardo Tisci will shock the world

This, simply, we feel it.
Celebrities will leave social networks

The social media ecosystem is becoming more toxic every day. So toxic, in fact, that even the Kardashians seem to be struggling a bit between a success that seems to be trudging on TikTok, a now overly repetitive set of content, and a fairy tale of the perfect life that no one believes in anymore. If you're a celebrity, on social, how do you do it wrong - which is why celebrities will migrate to warmer, more anonymous climes away from Internet trolls and haters.
Indie sleaze will be the new Y2K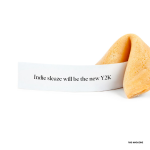 Get ready for the return of hipsters and Tumblr Girls. Exactly as happened just under two decades ago, the wave of mainstream haters and vintage lovers will overwhelm the plastic and fakeness of social ecosystems. Indie sleaze, with all its charge of mindlessness, will emerge on the horizon. The future is in the past - a true thing in 2023 and a true thing for all the hipsters/indies who are still out there. Your time is coming.
Shein's success will fade away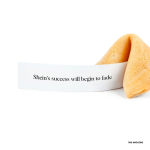 Somewhere between wishful thinking and prediction, there is no sign of Shein in our crystal ball for 2023. If it still remains excusable to buy her household products, her clothes and anyone brave enough to wear them will gradually disappear. Even greedy Gen Z consumerists will realize that 100% polyester is not worth investing in.