The collaboration between Missoni and Suicoke
Missoni's zig zag patterns and the Japanese sandal aesthetic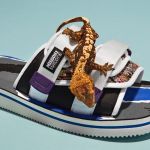 Here comes the first collaboration between Missoni, an Italian fashion brand founded in 1953 by Ottavio and Rosita Missoni, which in 2018 signed a partnership with Fondo Strategico Italiano to enhance its brand awareness and the company's significant potential, and Suicoke. Born from the encounter between the iconicity of Missoni's signature textiles and the aesthetics of the Japanese sandal, the collaboration celebrates the meeting of two creative visions known to the general public of fans and others.
Declined in the "Moto" and "Depa" models, Missoni's historic zigzag and slubbed patterns come to life through Suicoke's experimental design that has always been marked by great creative development and the use of excellent quality materials. Available in 4 different color and texture combinations, the Suicoke x Missoni models make the graphics with great visual impact, and the technicality of the materials the perfect synthesis of the heritage that distinguishes the two brands.
Available for purchase from July 22, they will be available online through the platforms of the two brands, as well as at physical and digital outlets of selected global retailers.