Nike has stand-by the release of the Air Max 1 X Cactus Jacks
Will the Astroworld tragedy change the world of collabs?
It took little more than a week to give time to the fashion industry to begin the progressive abandonment of Travis Scott as a result of the tragedy of the Astroworld Festival in which ten people lost their lives, two more than the initial number. If on the one hand a good number of LaFlame's fans continue to defend him, removing him from any blame for what happened, on the other hand there is now a huge slice of public opinion that sees in Scott the main responsible for the event, triggering a domino effect that could lead to a slow and progressive damnatio memoriae of the Houston rapper.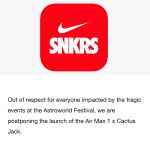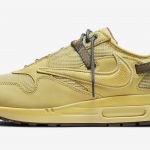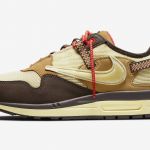 The fan base has always been the main thrust of the success of Scott, who in recent years has become more and more a company capable of creating collabo with brands of all kinds, from McDonald's to Byredo, the same ones that now seem to have begun to turn their backs on him. Only a few days ago, some insiders had reported the internal concerns of Dior about the release of the collection designed by the rapper with Kim Jones, while it is news of today the choice of Nike to postpone the release of Air Max 1 X Cactus Jack set for December 16th as a sign of respect for the victims of Astroworld Festival. If the lawsuits against Travis Scott and LiveNation continue to grow, the same can be said for the suspicions of being in front of the beginning of an end, at least momentary, for Scott now deprived of his commercial appeal that for a long time has made up for the lack of musical releases.
In addition to Nike and Dior, Epic Games has also distanced itself from LaFlame, blocking the sale of the emote of the rapper on the online shop of Fortnite, the first and perhaps most important collabo of the rapper now increasingly distant from his fan base. In Houston, the Cactus Jack logo was removed from the basketball court inaugurated a few weeks ago, while online there are more and more videos of sneakerheads burning Scott's sneakers, symbols of a culture of hype that never as in this case has clashed with the unpredictability of its gods. Because this is what Scott was, a god ascended to the Olympus of hype culture, a King Midas capable of turning into gold anything he touched, from fast-food to scented candles. But what happens when a deity becomes mortal? The fall of Travis Scott will probably represent a turning point for the way brands will see rappers, the way they will invest in them and the kind of partnerships they will forge in the coming years.