How does a Nike sneaker come about
As told by Sam Grawe in the book 'Nike: Better Is Temporary' and in this exclusive interview
For all sneaker culture enthusiasts, but also for those who have been wearing the same Nike kicks for the last ten years, the Beaverton brand is much more than just a fashion label, it's a way of life. A mindset that ranges from the purest design to innovation, from the visceral relationship with the most successful athletes in the world to fashion collaborations, passing through unforgettable ad campaigns and commercials that have shaped pop culture.
In five chapters dividing into as many thematic areas, the book written by Sam Grawe, Nike: Better Is Temporary, published by Phaidon, tells the story of the Swoosh from behind the scenes, from the laboratories where the brand's new ideas and sneakers come to life. Secrets, innovations and brilliant ideas that have led Nike to dominate the sportswear market, and beyond.
nss magazine got in touch with Sam Grawe who told in this exclusive interview about his book and what he learned at Nike.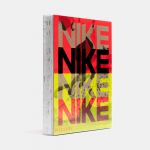 #1 Have you always been a Nike enthusiast? How did you become involved with this project?
Nike is one of the brands that has continually shaped popular culture for decades, so it's impossible not to be a fan on some level. Showing my age, the Revolution campaign from the 1980s is indelibly etched in my psyche—every time I hear John Lennon wail over that fuzz guitar I still think about the Air Max. The first shoes I really remember coveting were Air Trainers. Going back through the Nike archives, I must have had quite a few of the different models through the years because they all looked so familiar. That being said, beyond the occasional gym and running shoes, I hadn't really kept up with sneaker culture or what the company was doing and came into the project as a complete neophyte in that regard. My expertise is more grounded in architecture and industrial design, and I had previously worked with the editors and publishers at Phaidon on Herman Miller: A Way of Living. Even though furniture is pretty different from sportswear, there are similarities in that they are both design-based organizations that rely on innovation to create demand and drive growth.
#2 What's something about Nike and its philosophy that you didn't know about and that impressed you?
My first visit to Nike GHQ in Beaverton was revelatory not only because I got to see behind the curtain into all the nooks and crannies and secret spaces where the magic happens, but because it became obvious that Co-Founder Bill Bowerman's saying that "if you have a body you're an athlete" remains the driving force behind everything that happens there. On the one hand, that means a lot of effort go into making people like LeBron and Serena better on the court, or marshalling every available innovation into helping Euliud Kipchoge break the two-hour marathon. But it also means all those ideas get parsed and translated into designs that help make the sport more accessible and fun for the rest of us, which points to another Nike mantra: "Make sport a daily habit."
#3 Where does the title of the book - Better is Temporary - come from?
The title of the book came from Chief Design Officer John Hoke. Emilia Terragni, the assigning editor at Phaidon, and I were watching him speak to a room full of journalists about the upcoming innovations scheduled for the 2020 Olympics and somewhere in the middle of that he was talking about how in the grand arc of sport, records are there to be broken and today's best will be bettered tomorrow and he rattled of the phrase "better is temporary." Afterwards, we saw that we had both written it down in our respective notebooks and it just seemed like the ideal summation of what Nike is all about. At Nike, there's an incredible reciprocal relationship between athletic drive and product innovation—going all the way back to Bowerman's experiments on the track at the University of Oregon.
#4 In such a wide and saturated market, Nike continues to be the best-known sportswear brand in the world, perfectly combining the desires of sneakerheads and hypebeasts, and the technical demands of all the sports enthusiasts. How does the brand meet the needs of such different audiences?
I think this question really gets at where and why Nike has been so successful over the years. The chapter where we look at the brand and tell the story of the Air Max is a great example of this. At the time, that product was largely conceived as a top-of-the-line running shoe. But the genius of people like designer Tinker Hatfield and (future CEO) Mark Parker was in the ability to dial up the aesthetic parameters—namely visible air—to the point where the design details communicate something about the inherent performance capabilities AND create desire in the mind of the customer. The ability of the company to be able to ride that wave for decades has enabled them to push the brand into new areas and new audiences. It's important to remember that before all these iconic models—the Air Max, Air Force, Air Jordans, the Dunk—became cultural signifiers they were performance-based products. One of the most influential characters in the Nike story is a former shoe-tester named Sandy Bodecker who really understood this relationship between performance and culture and was able to adapt that way of thinking into a business model which helped push the company into new arenas like global football, the outdoors (ACG), and skateboarding.
#5 What role do design and technical innovations play in Nike's universe?
In a word—everything! There's one side of it that begins with research, data, and insights collected from and derived from athletes. The NSRL, the Nike Sport Research Laboratory, is undoubtedly one of the most advanced facilities in the world. Then there's another aspect which is in the technical development of products themselves—materials, making, manufacturing—which is equally advanced. In both of these areas, there's just a staggering amount of experimentation that the world rarely sees because it's all happening behind closed doors, but it ends up on our feet in the form of things like Flyknit, or Flyprint, or react foam, etc. The particular alchemy of the designer at Nike is to harness all of these forces and keep pushing them into new territory.
#6 Nike is one of the most vocal and socially engaged sportswear brands when it comes to social issues and injustices. Does this commitment reflect also in the way products are created, designed and released?
There are a couple of different ways of looking at this question that we address in the book. A major one that affects all of us is Nike's commitment to sustainability. You see this in new products like Space Hippie that are at the vanguard, but also in efforts you deliberately don't see but are critical shaping the company across the board. The best example of this is probably the hugely complex and costly effort to transition Nike Air from SF6 gas to nitrogen back in the early 2000s. Another way of thinking about this question is to look at how Nike is addressing new challenges to make the sport more accessible for audiences that typically been looked over. The Victory Swim Collection is a line of modest, performance swimwear that includes tunic tops, swim leggings and a hijab that can be mixed and matched for women seeking full coverage, as well as full range-of-motion, in the water. For the women who have never been comfortable getting in the water or experiencing what it's like to swim safely and with no barriers to their personal performance, that's a huge deal. For Nike, it's not just a political statement—it's an opportunity to innovate through highly-specific problem-solving. Based on how the company works, I'm certain that there were a ton of learnings derived from the development of that collection that will inform all kinds of other products going forward.
#7 Can you tell us a fun fact that nobody knows about Nike?
This maybe is more of a public service announcement than a fun fact, but if you have non-collectable old sneakers (of any brand, not just Nikes) taking up space in your closet, you can take them to any of the 292 Reuse-A-Shoe bins at Nike Stores in North America and Europe and they will eventually get turned into Nike Grind—a composite material that's used in everything from field surfaces to yoga mats to carpet padding.
Nike: Better is Temporary by Sam Grawe is published by Phaidon, $89.95 (phaidon.com)