Who is Daniel W. Fletcher , new Fiorucci's artistic director
The young British designer will make his debut with the brand's first menswear collection at the upcoming London Fashion Week in January
Now Fiorucci has a new creative menswear director: Daniel W. Fletcher. The news was announced on Instagram by the same British designer who commented on the new partnership with these words:
"I'm honored to announce that I've been appointed as the Menswear Artistic Director of Fiorucci. I can't wait to share my first collection with you all during LFWM in January".
The brand, founded in 1967 by Elio Fiorucci and sold in 2015 by Edwin Jeans to Janie and Stephen Schaffer, is ready to return to the spotlight and counts on one of the most interesting talents of recent years.
Growing up in Chester, a small town in the north-west of England, Fletcher has always been interested in fashion, but he realized that it would be his career only after a one-year break in Australia. Back home, he entered the BA Menswear course at Central St Martins and, while studying, worked at Louis Vuitton, Victoria Beckham, Burberry, JW Anderson and Lanvin. The success for him came quickly when Opening Ceremony bought his entire graduation collection, allowing him to open his namesake brand in the same year, 2015. Since then, his designs have become synonymous with coolness, traditional British tailoring with sportswear nuances, often combined with a precise political-social message, from Brexit to climate change. The talented guy describes his fashion in this way:
"Though there's a strong British heritage influence in my work, I always try to design in an elegant way people wouldn't normally associate with tradition. It's contemporary menswear with a sense of familiarity."
His creations have allowed Daniel to join the list of the most interesting emerging designers of his generation. Sarah Mower, British Fashion Council ambassador for emerging talent, called Fletcher a "ready-made designer for the online generation," saying:
"Daniel hasn't had to be taught things other young designers need to learn. His ability to be commercially minded and at the same time genuinely excited by design reminds me of a young JW Anderson."
For this skill, Fletcher has received an impressive list of awards: the Future British Fashion Award supported by Boden, the River Island X BFC Fashion Film Award, the nominations for the LVMH Award in 2017 and finalist at the prestigious Woolmark Prize 2019.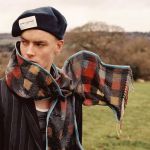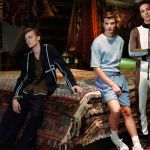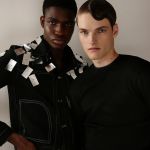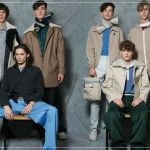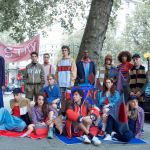 Now the designer has a new challenge: to reboot Fiorucci's menswear.
"I've never had this level of responsibility before, but it's something I've always wanted to do" - said the young creative, who will divide the time between Fiorucci and his brand Daniel W. Fletcher - "It's the dream of every designer to be able to join a company that already has a history, but to be able to enhance it".
Currently, menswear has only included jersey and denim items, accounts for just 10 per cent of sales although it has long been a key part of the brand. The hope is that Fiorucci's menswear will reach 20 percent within the next year, and 25 percent over the next two years.
"We want to take it away from streetwear, which is the jeans, T-shirts and sweatshirts that Fiorucci is known for, and take it to being more refined."
Fletcher reiterates its intention to elevate Fiorucci, launching also bags ad accessories for men, introducing tailoring and designing increasingly avant-garde pieces. The first Fiorucci collection will make its debut at the next London Fashion Week Men's in January and will probably be strongly inspired by the historical archive and heritage of the Italian brand, as the first images revealed by I-D magazine prove. To design his first line of looks, Daniel started from an iconic campaign of the '70s starring Rod Stewart dressed in a T-shirt and pinstripe denim.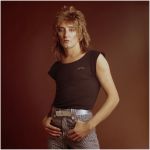 The result is a series of tight-fitting jeans and basic tees with the words Fiorucci.
"Denim was a fundamental offering in the original Fiorucci brand, and it's prominent in a lot of the imagery that was around at the time and from within the archive," - Daniel says - "I wanted to revisit this as part of one of my first contributions to the house: experimenting with fits, washes and styles so that my first designs formed a firm core collection for men. The t-shirt uses an archive logo taken from the iconic image of Rod Stewart wearing Fiorucci… These initial ideas and archive visits will form the basis of my collection in January."
We are all curious to see the next items designed by Daniel W. Fletcher for Fiorucci.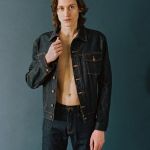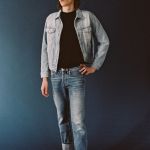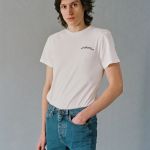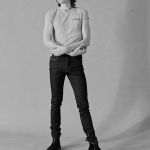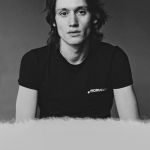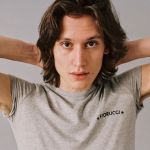 All imagery by Morgan Hill Murphy