The Gucci Resort collection recalls the close bond between fashion and politics
For the Cruise show Alessandro Michele has gone from poetry to politics
Last night Gucci's creative director Alessandro Michele invited guests to the presentation of his 2020 Resort Show at the Musei Capitolini in Rome. The Italian fashion house has become notorious for finding peculiar locations, but this one in many ways was an allusion to the designer's fascination with history as the museum is known for being the first in the world conceived by Michelangelo in 1734. Upon location, a bed sheet hung from the museum's entrance with the words of historian and archaeologist Paul Veyne spray painted: "Only pagan antiquity awakened my desire, because it was the world of before, because it was an abolished world," setting the complex tone of the show's theme. Inside, the designer presented his collection in the dark among a collection of centuries-old colossal statues.
full black gown
, accentuated by lace gloves and a giant feathered head piece inspired by designer
Bob Mackie
's headpiece made for
Cher
at the Oscars of 1986. An interesting but playful reference, one expected by the designer having established a clear ludic tone in the past few seasons. But as the torches of the audience flashed and the soundtrack of choir voices and harps played in the background, a subtle quote appeared on the rear of a Gucci logged linen jacket,
MY BODY MY CHOICE
— a famous feminist quote from the '70s. Upon initial thought, one might have thought the designer is simply trailing a few famous quotes as sorts of memorabilia. But then there appears another, an embroidered
uterus
on the front of a cotton-like gown and later on the date
22.05.1978
- the date of the passing of Italian law 194 - the social protection of motherhood and voluntary termination of pregnancy. Soon after, another date made an appearance as embroidery on the back of menswear look,
09-11-1989
: The fall of the Berlin Wall.
Chime for Change
establishment in 2013, but this is the first time it has ever explicitly stated in the fashions. Could Alessandro Michele, the king of witches and warlocks, gipsies and everything imaginative be dipping his wand into
politics
? And even more so, political correctness?
Alessandro Michele's Gucci has always been one for freedom and fluidity, but in the past few seasons, the fashion house has experienced a wave of social backlash regarding racial and cultural insensitivity. Of which they have reacted with the establishment of scholarship and mentorship programmes and in house changes, but might this be a way of explicitly establishing they are on the right side of social change and politics?
can fantasy and politics dwell in the same ambience?
Should we bring the filth of government affairs into the sacred imaginative spaces of fashion? At this point, it may seem like we have no option but to. Fashion has always been about the essence of
freedom
, the core of the concept of fashion stems from the idea of not conforming with an identity given to you by society but channelling how one wants to be defined of through ways of dress. This has especially been made evident in the past few seasons through the blurring normative runway collections. Fashion in itself carries a liberal voice that is not bounded by a particular gender, race, sexuality or class, but one that allows its muses to embody characters beyond societies boundaries.
The conservative movements of Trump and on a local basis, Salvini, are opposing forces to this type of freedom. They are movements who see identity and culture as something fixed and by default are plain threats to the concept of fashion. So it makes perfect sense as to why messages are being explicitly stated through the forms of garments. It is why Public School sent models down the runway wearing Make America New York hats, in opposition to Donald Trump's Make America Great Again, it's why each season Maria Grazia Chiuri sells overpriced feminism with Dior's We Should All Be Feminists t-shirts and Calvin Klein creates underwear campaigns for all genders. It's why supermodels including Naomi Campbell stripped down in 1994 for a campaign against the use of fur and why Vivienne Westwood created her anti-nazi t-shirt in 1977.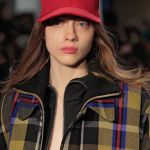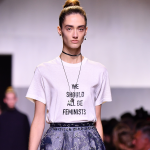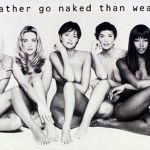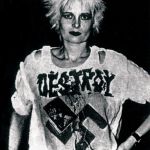 The fashion industry is a medium of self-expression and identity has not only the power but the responsibility to stand up and speak out
. And although the industry may contradict itself every now and then by stepping outside what is considered "politically correct," a stance of solidarity to what is right is always to be applauded. So even if Gucci's stance may not have been clear then, it has been clarified with these crystal clear memos dropped in the last show, here's to hoping Michele continues on a good path.