Discover the world of nss kicks at White Street Market
The nss magazine area dedicated to the sneaker culture with workshops and exhibitions
As you may have heard, this weekend White Street Market will open its doors, the festival dedicated to fashion and street culture returns for its second edition at Superstudio Più in via Tortona 27, Milan.
Among the many booths to visit and the events you can't miss, nss magazine will of course be present with nss kicks, the area dedicated to the sneaker world, with workshops, exhibitions and a relax lounge. At this booth you will also find Laced Up Community, the sneaker and streetwear group, and DCJ SNKRS, the Sneaker Care & Sneaker Custom collective.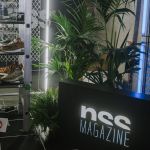 nss kicks has invited three special guests, who will exhibit their work for the first time in Italy.
Agent 33 (@agent_33_) is the 19-year-old French designer who became well-known thanks to his designs of hybrid sneakers, created by dissambling and putting together parts of different sneakers, giving life to a kind of Frankenstein of various silhouettes.
Agent 33 will be the protagonist of the Sneaker Origami workshop, which will take place on Saturday and Sunday, where the WSM visitors will have the chance to create their own hybrid sneaker. You start by choosing between the various sneaker prints available, to then assemble parts from different sneakers, the upper from one shoe and the tongue from another, to create the sneaker origami of your dreams. Your project will then be printed and hung on the wall, so that the other visitors can vote for the best result. The most voted project will be turned into a render by Agent 33 himself.
Rudy Lim (@rudyindahouse_) is the South Korean artist specialized in deconstructing sneakers. Lim takes the most hyped and sought-after sneakers and deconstructs them, by removing the stitching and then separating the midsole and upper. Once the sneaker is deconstructed Rudy puts it back together using glue and wire, giving life to a real piece of art that shows every detail and secret of the silhouette.
Stomper Haus (@stomper_haus) is the Los-Angeles based sneaker sculptur. After having established a reputation with his illustrations, Stomper started to use chalk to create real sculptures that are the exact replica of the most famous Nike silhouettes, to which he adds tiny details that pay homage to the Nike x Off-White collabo.
See you at nss kicks!