APJP for Converse at White Street Market
A special live painting session for sustainability
This weekend returns one of the most anticipated events of the Milanese landscape. White Street Market, from Saturday, June 15 to Monday, June 17 at Superstudio Più in via Tortona, has become an unmissable happening for all the fashion, street culture and sneaker enthusiasts. This year more than ever the festival will focus on the theme of sustainability, thanks to brands that have made environmental protection one of their strong points, along with it talks and workshops on this topic.
Perfectly in line with the theme is the new project by APJP, a brand born from the minds of Alberto Panocchi and Joelle Pomioli, that thanks to colours, brush strokes and revisitation, gives a second life to already worn clothes. A project in which sustainability and artistic creation blend entirely.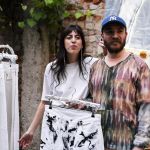 On the occasion of White Street Market, APJP will give life to a
special painting session in collaboration with Converse
, that has selected young creatives with two elements in common:
creative renovation
and
sustainability
. Alberto and Joelle will be the protagonists at the Converse booth, where they will revive and renovate denim canvas, in partnership with Candiani Denim, which thanks to its commitment to sustainability is often called "The greenest mill in the blue world". Panocchi and Pomioli will give a concrete example of how fashion and sustainability can perfectly coexist.
The performance will take place Sunday, June 16 from h 15 to 18 at White Street Market.