Gucci Garden launches garden capsule collection
Inspired by the people encountered by the English artist on the streets of Florence
Gucci has just inaugurated two new rooms of the Gucci Garden, the exclusive museum located in Piazza della Signoria in Florence, with a very special installation dedicated to Björk and the dress she wore in the visual of "The Gate".
Seeing this work of art created by Alessandro Michele is not the only reason to visit the museum, because, at the same time, the Tuscan fashion house has decided to release a special capsule collection in collaboration with the artist Isabella Cotier.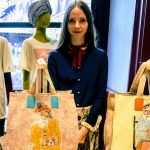 The 27-year-old English artist has transformed the people she met while walking around Florence in
illustrations
, designs that have become perfect prints for a selection of sweatshirts, t-shirts, along with floral pyjamas and Dionysus leather bags.
"It all started with this woman, Flora. I saw her in a café: she started dancing out of nowhere, only by meeting her I found out that she was a retired ballerina." - Isabella told Vogue - "I started collecting these characters, and I went to places like Sant'Ambrogio market to find them. It's about these characters and their aloofness. There is definitely this attitude in Italy about being relaxed and not caring so much about themselves".

The capsule will be sold exclusively at the Gucci Garden.