Gucci Garden: a enchanted reality in the heart of Florence
An exclusive location inside the historic Palace of the Mercantile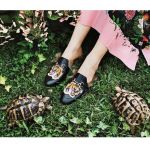 Inside the historic Palace of the Mercantile in Piazza della Signoria in Florence will be born an enchanted reality.
Gucci, one of the most icon of the fashion systems in the world, will open in its hometown Gucci Garden, a sophisticated and elegant location that will show inside a special store, a restaurant - by the 3 * Michelin Massimo Bottura chef and exhibition spaces curated by the critic and curator Maria Luisa Frisa.
Designed by the Creative Director Alessandro Michele, the designer honors the Maison, once again exalting the brand's attitude, which for the occasion will sell in the shop a unique edition Made in Gucci.
Gucci Garden will be officially opened to the public on January 9 with a special private cocktail.
Waiting for the opening, enjoy the latest Gucci Garden capsule collection.