Aliens are the protagonist of the new Gucci campaign
A clips's serie on Instagram featured future's models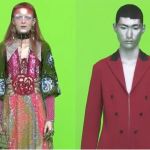 Kendall Jenner? Gigi and Bella Hadid? Kate Moss? Freja Beha? Overcome.
Future models come from space, from distant galaxies such as Xeod and Zenoba. They have implants, face and body covered with paint, are robots, sea monsters, aliens, hybrid creatures that remind Matthew Barney's artistic children. Ask it to Alessandro Michele. Gucci's designer, recently introduced by The Times in the list of the 100 most influential people of 2017, has understood it and entrusted to these new beings his latest collection for the FW17.
In a series of mini-clips, out-of-screen cinematic appearances on Instagram these creatures on a fluorescence green talk about traveling, reciting a fragmented screenplay, while the boom mike pound the shot or shot languishes on technical details the viewer should be ignorant. Meme, soul scene 60s and now aliens.
Gucci continues its battle for uniqueness, the celebration of a concept of beauty and fashion completely personal and particular, far from rules and preconceptions.