Chrome Hearts has reissued one of its most iconic seats
The Filigree Chair will be available this summer
Chrome Hearts is a brand that goes beyond any possible definition: perhaps the purest lifestyle brand in history, whose influence ranges from fashion luxury to jewelry leading to the highest conception of modern craftsmanship. The brand's founder, Richard Stark, has a completely holistic approach that has led him to leave his mark on an extraordinary number of design areas. One of them is furniture, one of Stark's main passions, who has decided to produce the re-issue of one of his most classic pieces, the Filigree Chair.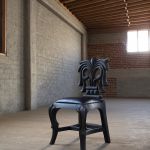 Thisseat is one of Stark's favorite models, he made a Sterling Silver one-off version for the New York flagship of the brand. In fact, woodworking and the artisan creation of pieces of furniture was originally the world from which Stark came and for this reason, it remained one of the most appreciated activities of the brand today.
Chrome Hearts' Filigree Chair will be available in a limited edition this summer in all the brand's stores.