Kim Jones's post-industrial home
An environment dominated by concrete, glass and steel in the heart of London
Exactly one year ago, Kim Jones, way before his appointment as creative director of Fendi womenswear collection, had opened the doors of his London house to 032c.
Located in West London, Jones' house is not exactly what the designer had in mind when looking for his ideal home. Despite looking for a period home and having, in fact, getting his eyes on a Victorian villa, Jones instantly fell in love with this ultra-modern space.
I've always fantasized about living in Los Angeles, and having a house in a style like this – I didn't realize it could be done. Many people think living in concrete is very cold, but I don't agree.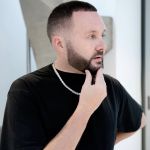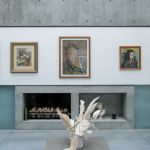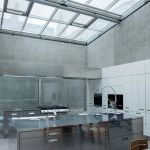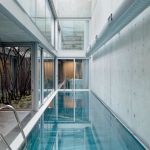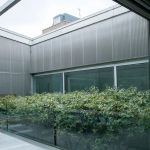 Built in 2006 by Gianni Botsford Architects, the house, which spans over 800 square meters, is a brutalist dream. In fact, the grey colour dominates, gracing different place and materials such as concrete, steel - which makes up the kitchen in its entirety - and glass, which dominates the kitchen as well, as well as decorating hallways and stairs. The house also boasts an indoor pool, which as Jones said, Juergen Teller can't wait to try.
The living room, that doesn't have a rug yet - "I wouldn't say I've finished this interior at all. In the living room, I think I want to design a rug rather than buy one. It's a process, and I have no need to rush it"- is dominated by a geometric rug made by Francis Bacon in 1930, before the artist turned to paintings. The son of a geologist who loved to collect objects and small memorabilia, Jones himself keeps a large collection of materials from all over the world, especially geological objects. It is the works of art, the collectables and above all the library, the only finished part of the house, to give character to a space that otherwise would have remained aseptic, sometimes cold.
My home is constantly evolving. It's a fluid arrangement of objects.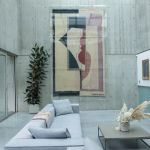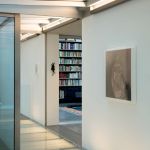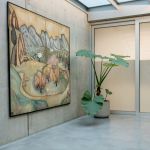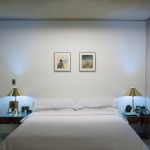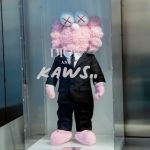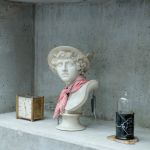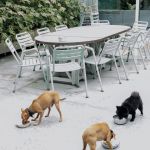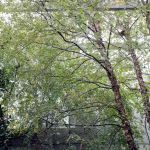 All images courtesy of 032c.