Sunday Escape – Chatsworth House
Get lost in the majestic interiors of Gucci Cruise 17's villa
42 hectares of gardens. 175 rooms. 359 doors. 2084 light bulbs. The result is around 1.3 acres territory, providing work to over 160 people, including restaurateurs, guardians, guides, cooks, maids, carpenters.
Chatsworth House, the Duke and Duchess of Devonshire's residence, is one of the most famous, beautiful and impressive historical estates of England, so much it won the title of "second Versailles."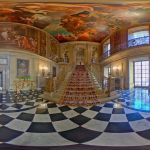 The huge building, build over 500 years ago by the Cavendish family, has become popular for being the location of Pride and Prejudice, the movie featuring Keira Knightley and inspired by Jane Austen's book, and of Wolfman (2010), starring Benicio del Toro and Anthony Hopkins, as well as for being the set for Gucci Cruise 2017's campaign.
Here's everything you need to know about this authentic English gem.
History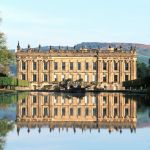 It all began in the seventeenth century when Bess of Hardwick convinced her husband Sir William Cavendish, Treasurer of the King's Chamber, to sell their property in Suffolk and to move to her native region, Derbyshire. Here they bought an estate – of which today only the so-called "Hunting Tower" has remained – that was soon transformed into a baroque palace by architect William Talman and subsequently hugely expanded between 1820 and 1827.
The property passed on from father to son, surviving 12 generations, a revolution and lots of debts (it seems that at some point the sum amounted to £7,000,000 backwards inheritance taxes), always remaining linked to the Cavendish family.
The Place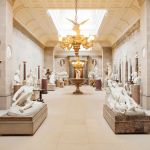 The castle, now a museum, houses important furniture collections and works of art, such as Andrea Mantegna's engravings, paintings by Rembrandt and Reynolds and the first version of "The Arcadian Shepherds" by Nicolas Poussin.
Among coffered ceilings and baroque furniture, staircases and frescoes, halls that hosted some of the 20th-century English society's greatest figures like stylish Duchess Deborah Cavendish, the rooms are infused with history, art and culture.
Once crossed the entrance, we get to the Painted Hall which, with its marble floors and Louis Laguerre's frescoes representing Julius Caesar's life, is just breathtaking.
Then there are the rooms.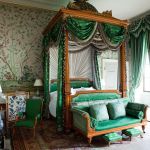 First are the staterooms (dressing room, bedroom, music room, living room and dining room), once destined to the monarchy (King George V and Queen Mary stayed here in 1933) and decorated with tapestries, mosaics, paintings of dukes and royals and sophisticated trompe l'oeil.
The most luxurious part of the building is, however, the Library with the gilded stucco ceiling, paintings, velvet chairs, carpets and more than 17 thousand volumes purchased by Duke VI.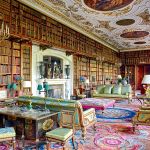 Then there's the chapel, the dome hall and the Sculpture Gallery, which, inside its walls decorated with red and green, houses works by Antonio Canova.
Just passed the orangery we enter the garden, that's in neoclassical style and redesigned by landscape architect Capability Brown: over 100 acres of trails, trees, waterfalls, mazes and sculptures. A place that was originally thought to be a reproduction of Eden.
Fashion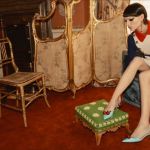 Chatsworth House is the setting chosen by Gucci for its Cruise 2017's campaign, the same collection that had already been showcased in Westminster Abbey.
Alessandro Michele celebrated English culture and its heritage, confirming his love for the British style, a constant source of inspiration for the designer.
The photographer Glen Luchford shoot famous British actress Vanessa Redgrave, the campaign's real star, along with a series of young models who, with their punk spirit, are invading the corners of this historical house – amongst tapestries, velvet furnishings, but also geese, horses and dogs.
Gucci has also decided that, for three years, it'll work in order to preserve and support the many events held at Chatsworth House.
Curiosities
- In Chatsworth's greenhouses "Cavendish banana", the most common type of banana around Europe and the United States, was invented.
- It seems that in Pride and Prejudice, Jane Austen took Chatsworth as a model for Pemberley, Mr Darcy's residence.
- The famous property has been home to Deborah Cavendish Duchess of Devonshire, grandmother of model Stella Tennant and true fashion and beauty English icon of the second half of the twentieth century. She, along with her 5 sisters, a bit as a kind of Kardashians of the time, has represented an endless source of gossip and conversation topics to the high British society for nearly a century.