Elon Musk will send Tom Cruise into space
The departure is scheduled for October 2021
Pills
September 23rd, 2020
After several "mission impossible", Tom Cruise is ready to leave for space aboard Elon Musk's SpaceX Crew Dragon.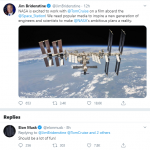 The actor will embark with director Doug Liman with the aim of making the first film shot completely in space, a project produced by Universal Pictures with a budget of 200 million dollars. A tweet released by Space Shuttle Almanac also shows the travel program of the SpaceX Crew Dragon Axiom Tourist flight confirming the presence of Commander Lopez Alegria, Tom Cruise, Doug Liman and another "tourist", an operator or another member of the cast.
Filming for the project, an as-yet-untitled action movie, will kick off in October next year, in time to allow Tom Cruise to finish filming the next Mission: Impossible.
The idea, of course, is to make the film a unique cinematic experience.