Kim Kardashian West and Spotify Team Up to Produce a New Criminal Justice Podcast
The podcast is only the latest step in Kim Kardashian West's personal battle
Kim Kardashian West has signed an agreement with Spotify for the production of a podcast, of which she will be producer and host. The new series will focus on the American justice system: a topic that is already very dear to Kim, who in the meantime is studying to become a lawyer and has worked intensely for the cause in recent years. Just a few days ago, with a Story on Instagram, she saved from execution Ruben Gutierrez, a man convicted without evidence for the murder of an 85-year-old lady.
The podcast will be distributed by the Parcast Network, a production company specialized in crime programs that Spotify purchased last year. Kim Kardashian West's podcast will focus specifically on the case of Kevin Keith, sentenced in 1994 to execution and still awaiting trial due to the continued emergence of new evidence. Still, someone has already raised the first doubts about the project.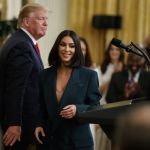 Kim Kardashian West's adventure in the American legal system began in 2018 when she personally intervened to save Alice Marie Johnson, an African American woman sentenced to life in prison for drug trafficking, from life imprisonment. Thanks to her popularity, Kardashian West managed to get a meeting with the President of the United States Donald Trump, who met her in the Roosevelt Room and decided to commute the sentence and free the woman after 21 years in prison. Just a few months later, the world's most famous for being famous celebrity started a 4-year apprenticeship in a San Francisco law firm to become a lawyer by 2022 (in California, the apprenticeship can replace law school). Recently, among other things, he participated in Kim Kardashian West: The Justice Project, a documentary produced by Oxygen in which he investigated the stories of four condemned men whose lives have been unjustly upset by the limits of the current legal system.
The most cynical say that Spotify could not be the best platform for this type of content. In fact, in this media scenario, the big absentee is Apple: many have suggested that it would have been a more suitable platform for a podcast on the reform of the justice system. In recent times, however, Spotify is expanding its offer in new directions: just a few days ago it announced the agreement of over 100 million dollars made with Joe Rogan to broadcast the podcast The Joe Rogan Experience. Some rumours claim that Kim Kardashian West's deal should not reach such high costs, being a new format, but Spotify has not yet revealed any details of the contract.