A Tiger King sequel is in the works
And it will focus on the mysterious disappearance of Carole Baskin's husband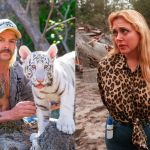 Two weeks after the release and resounding success of Tiger King: Murder, Mayhem and Madness on Netflix, Joe Exotic's character has become a world-renowned antihero. In recent days, many rumours have begun to circulate about a large number of adaptations that American networks would like to make of the bizarre criminal saga that has as its background the world of tiger owners. Former Saturday Night Live comedian Kate McKinnon has announced that she will play Carole Baskin in a new and unspecified serial project, while yesterday Rob Lowe launched a teaser on Instagram in which he was dressed as Joe Exotic and wrote:
"Ryan Murphy and I will be developing our version of this insane story. Stay tuned!"
Rob Lowe's is a presumable allusion to a new season of American Crime Story, a series that over the past two seasons has focused on the most famous criminal sagas in the United States. But the project whose shape is more defined for now would be in the works at the Investigation Discovery network and will be titled Investigating the Strange World of Joe Exotic. The topic of the new project, which could be a film or a second series, will be the investigation surrounding the disappearance of millionaire Don Lewis, husband of Carole Baskin, whose disappearance the owner of Big Cat Rescue has been repeatedly accused by Joe Exotic. Of course Exotic will be one of the protagonists of the new project, which will also dig into some of the unexplored corners of his past.
Meanwhile, Jeff Lowe (who is unrelated with Rob Lowe) appeared on a video on Twitter saying that Netflix appears to be about to release a bonus episode of Tiger King in the coming weeks – although the subject and nature of this special remains unclear, given that the story told in Tiger King seems to have already sold out over the course of the seven episodes of the original series.