A recap of the legal battle between Supreme NY vs Supreme Italia
As made by CNN with a very clear video, while Supreme NY announces the Chinese battle
Since the first article published on nss magazine about the issue of Supreme Italia, it seemed clear to us that it wasn't just another counterfeit case, but rather a deeper subject that involves the most recognizable logo in the world, the right of copyright and intellectual property and the future of streetwear in emerging markets like the Chinese one. From a local story, restricted in the streetwear world, the legal battle between IBF (the company detaining the Supreme Italia and Supreme Spain brands) and Chapter 4 (James Jebbia's holding owning Supreme NY) received global attention, especially after the Samsung-China case. Yesterday, in fact, CNN - one of the biggest and most important American TV broadcaster - published a long and deep piece that recaps the case from the beginning to the present day.
CNN
assessed the facts and explained the subject also to those who had never heard of
Supreme
, trying to describe the success and the hype of the New York brand. A 6-minute long report is of course too short to tell the story of Supreme NY and the legal battle with
Supreme Italia
, right when the lawyers of the American brand have decided to change strategy, opting for
a definitely more aggressive tactic in terms of communication
. Last month's opening of the
first store in Shanghai by IBF
must have been the straw that broke the camel's back: Supreme's lawyers have announced that they will file a lawsuit also in China, where Supreme NY has applied to register its trademark and where it doesn't ship its items, while IBF has applied a trademark request through the WIPO. Thus
none of the two brands is officially registered in China
, and the Chinese law is still evolving regarding trademarks: on the one hand, a brand that is already operating in the Chinese area is favoured (IBF), on the other the legislators are trying to give more protection to well-known international brands that want to register their trademark.
Here the official statement of Supreme NY lawyers - published on a newspaper of Shanghai and picked up by The Drum - which announced the legal battle in China.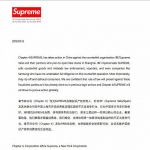 Stay tuned on nss magazine for all the updates on the Supreme NY vs Supreme Italia saga.