Gucci donates $ 500,000 to support the Washington arms control march
Organized by students who survived the 14 February massacre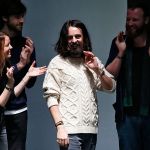 Pills
February 26th, 2018
Gucci decided to donate $ 500,000 to support the Washington arms control march, organized by the surviving students of the February 14 massacre, when a former student massacred 17 people at the Marjory Stoneman Douglas High School in Florida.
"We stand with March for Our Lives and the fearless students across the country who demand that their lives and safety become a priority",
said the company to WWD and Alessandro Michele added,
"I am truly moved by the courage of these students. My love is with them and it will be next to them on March 24. I am standing with March for Our Lives and the strong young women and men across the United States who are fighting for their generation and those to come".
The money donated by Gucci will be added to those of George and Amal Clooney, Oprah Winfrey, Steven Spielberg, to the 3.7 million dollars already collected for the event that will represent the pinnacle of a series of initiatives to obtain more stringent limits to the purchase of weapons after so many massacres.
For the Florentine Maison, this gesture is part of a renewed political activism explored also with the Gucci Pre-Fall18 advertising campaign inspired by the student revolts of 1968 in Paris and with the decision to abandon the use of furs in its collections.