HONEYEE US presents the third episode of its TNT - SPACEDELICIOUS series
La Paris Fashion Week Edition di TNT - SPACEDELICIOUS nello showroom parigino di Slam Jam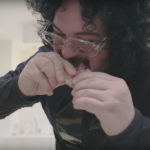 In the frame of the Paris Men's Fashion Week, the third episode of the TNT - SPACEDELICIOUS series, curated by HONEYEE US, tells with the unique style of Maurizio Tentella food, fashion, and culture.
Maurizio visits the Parisian showroom of the Slam Jam store, a milestone of streetwear and street fashion in Italy and beyond, taking us to the discovery of new collaborations on arrival in 2018: from Samuel Ross for Oakley to Napapijri - Martine Rose arriving at the end to the long-awaited Food Selection.
Enjoy this French adventure while awaiting the next installment of the SPACEDELICIOUS series by TNTeaT - Escape to Los Angeles.