What you need to know on Ulyana Sergeenko and Miroslava Duma accuse of racism
Finished in the eye of the storm because of the word with the "n"
Ulyana Sergeenko and Miroslava Duma ended up in the eye of the storm due to a card sent, and then shared on social media.
The Russian designer has sent to the entrepreneur and it-girl a bouquet of flowers accompanied by a note with the words:
"To my niggas in Paris".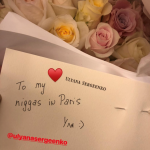 Open up heaven!
Duma published it in the Instagram's Story and, even if the post was canceled shortly after, the damage had already been done. The controversy was getting bigger, as the accusations of racism multiplied.
Miroslava has, therefore, always via Instagram, issued an apology, trying to defend the designer and explaining how she used the unhappy "with the N word" in reference to a famous song by Kanye West and Jay-Z. Even Ulyana Sergeenko tried to justify herself by explaining Kanye is her favorite artist and that both she and Miroslava used that nickname among them in a joking manner and, finally, that in life has never made distinction between whites and blacks.
As if that was not enough blogger Bryanboy who posted a video of the Duma full of homophobic and transphobic comments yesterday, part of a speech in front of an audience of students.
Again apologies woman arrived who said it was "deeply embarrassed" for those comments made in 2012 and that, in the six years since the making of the video, is committed "in a personal growth journey, in which ignorance has been replaced by acceptance and discrimination by inclusion."
Will this series of statements be enough to appease the spirits? The reactions to the cardt between Ulyana and Miroslava have been exaggerated or are they fully justified?
Will people learn not to use the word "n" and reflect before posting anything on social media?
And when finally the words "I deeply respect people of all backgrounds and detest racism or discrimination of any kind" will be true for everyone?