Spring 2018 Couture Fashion Week FW18 Moodboard
The inspirations directly from the catwalks
"Florals? For spring? Ground-breaking!"
Thus the fearsome Miranda Priestly-Meryl Streep sarcastically told those who proposed the floral theme for the spring season.
Who knows what he would think in knowing that some of the major collections presented during the Haute Couture week just ended in Paris were the same inspiration.
Giambattista Valli has transformed into clothes the concept of "wild garden" developed by William Robinson; Chanel showed her romantic side by rebuilding a garden full of roses and flowers;
Givenchy has explored the mystery of the gardens in the moonlight.
And the others? Valentino brought on stage a moving and splendid tribute to the tailors and craftsmen who create the magic of couture, but at the same time, recalled the figure and the big hats of Lady Duff-Gordon and the full colors of Andrea Pontormo.
Ulyana Sergeenko, between a controversy and the other, took the ideas from the ceramics of the artist AnnaYatskevich and from the paintings of Elisabeth Vigée-Lebrun; while Armani has undergone the charm of the clouds.
Dior celebrated the powerful aesthetics of the Surrealist artist Eleonor Fini and Elie Saab Josephine Baker Mistinguett and Kiki de Montparnasse.
And the others? They tried to transform beauty into clothes.
Art & Design
Valentino – Pontormo "Lunetta di Vertumno e Pomona"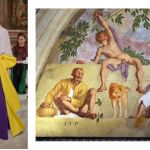 Alexandre Vauthier – "The Fifer" by Édouard Manet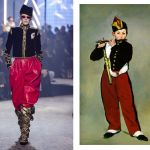 Ulyana Sergeenko - Elisabeth Vigée-Lebrun "Chemise à la Reine"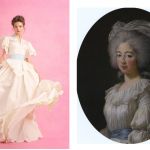 Armani - "Pink Cloud over the Water" by Louise Balaam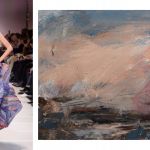 Iris Van Herpen - rice terraces in Yunnan Province, China, by John Qu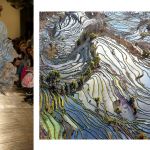 An homage to
Dior - Portrait of Leonor Fini, 1951, by Maurice Zalewski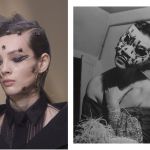 Schiaparelli - Elsa Schiaparelli fall 1938
Elie Saab - Josephine Baker
Valentino - Lady Duff-Gordon
Viktor & Rolf – Colombine mask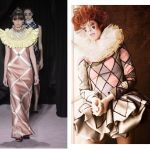 Giambattista Valli - William Robinson's book "The Wild Garden"