Goodbye Hugh Hefner, founder of 'Playboy'
The man who redefined the sexual culture of the second half of the twentieth century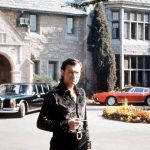 Pills
September 28th, 2017
Hugh Hefner, the founder of Playboy, the world's most famous erotic magazine, died at 91-year-old tonight in his home near Beverly Hills, the famous "Playboy Mansion".
Born in Chicago in 1926, founded the magazine in 1953, not only he created the myth of the bunnies but redefined the sexual culture of the second half of the twentieth century.
It is 1953, when a 27 years old Hefner was working as a commercial copy for a department store, Esquire, and then as a sales director for a children's magazine until when he decides to found a magazine of his own. The initial budget? All his savings, $ 600, plus a further 1,000 borrowed from her mother and the remaining 6,000 from friends and acquaintances.
In the first editorial he writes:
"If you are a man between the ages of 18 and 80, Playboy is for you ... We want to make clear from the beginning that we are not a family magazine. If you are the sister, wife or mother-in-law of a man, and you've taken this magazine by mistake, please pass it on and return to your "Ladies Home Companion" (a female magazine of the time). "
It's the beginning of Playboy, and the first cover girl is Marilyn Monroe.
But inside Playboy, there's a lot more, a winning formula. Inside Playboy, the pages are full of articles and interviews with famous characters, from Malcolm X to Henry Miller, from Muhammad Ali to Ingmar Bergman, as well as short tales of great writers, including Jack Kerouac, Vladimir Nabokov, Gabriel Garcia Màrquez, Norman Mailer or Chuck Palahniuk.
"Those who buy Playboy only for women receive little in return for their money," Hefner explains. "My readers, I believe, have many other interests: cars, music, beautiful clothes, good cooking, literature, ideas, what I try to do each month is to provide a newspaper that gives a complete and accurate picture of the range of action and interest for man between the twenty and forty. Publish a newspaper for this type a reader without recognizing the importance of beautiful girls would be an idiocy".
Sixty years later, three wives, thousands of women, a financial empire, a sexual revolution, hedonism, consumerism, and, above all, rejection of the rules, of the American bourgeois perbenism, moralism and intolerance.
All this and much more was hidden behind Playboy and behind the man in silk pajamas and captain hat who was always surrounded by beautiful girls.
R.I.P, Hef.