HoneyLuv on the importance of equal opportunities
The DJ and producer discusses the pros and cons of working in the dance music industry
LA-based artist HoneyLuv, named by The New York Times 'Up Next', sits down with nss to discuss her love for music, Europe, and the importance of equal opportunities for all artists. Posing in front of Conrad Byer's lens, HoneyLuv wears Denim Tears' garments accompanied by the artistic vision of make-up artist Brittany Brown.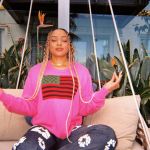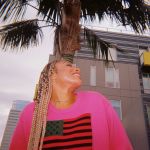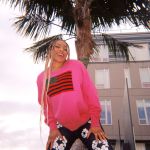 Conrad Byer: So, where did you just get back from?
HoneyLuv: I just got back from El Paso, Texas. It was a vibe, I didn't expect it to be as crazy and insane as it was, because it's such a small city. The party was dope.
CB: You were also in Milan recently. Did you eat any really good food?
HL: Yes, I was in Milan for about a week, and I did not want to leave! I ate tons of pasta. Everything was super fresh, nothing you can get here in America.
CB: You were in the military, and learned how to DJ there, correct?
HL: Yes, I was a drone mechanic for four long years, and yeah, I learned when I had time. After work, I would go DJ all night and I would wake up at like 5 o'clock in the morning because my days started early. I got lucky, it's not the same for everyone.
CB: Nice, and how long have you been in LA?
HL: I'd probably say 7 years now. It went by quickly. It feels like yesterday when I first got here. I was so ready for it all and I was so into everything and anything, partying every weekend. But now it's just chill, lots of studio time, laying in my room, watching movies and tons of traveling. This coming week I will go to Vegas and then Canada. The party I'm playing this weekend is with Chris Lake in Vancouver, it's actually pretty cool.
CB: So, since 2023 started, you've kind of just been moving around.
HL: Yeah, nonstop! That's how I like it to be honest. Even with LA, I'm starting to feel like ugh, I'm ready to go!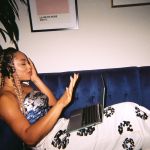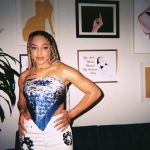 CB: Do you feel like you will be in LA for a while, or do you think you will live in New York?
HL: I'll probably be bi-coastal between Los Angeles and New York, and then hopefully, a Europe residency. That's what I really want.
CB: Where in Europe?
HL: I don't know yet, I think I still have to travel to see which place is best for me. But, somewhere with weather similar to LA to be honest. By a beach would be perfect.
CB: Where in Europe have you already been?
HL: To London, Ibiza, Milan, and Torino.
CB: How'd you like Ibiza?
HL: Oh, I loved Ibiza! It's a party city, and reminds me of Vegas, but not as crazy.
CB: Music festival season is approaching. Are you really excited?
HL: Yes I am! Especially for the music festivals in Europe. I'm playing Tomorrowland in Belgium.
CB: Ok, so she LOVES Europe.
HL: *laughing* Yes, I definitely do!
CB: So, when would you say that you seriously stepped into music?
HL: I think my friends forced me to DJ, but I always liked music. When I was younger, I found myself begging my parents to buy me a piano, and I wish I stuck with it. I also forced them to buy me a portable recorder, so I was able to record my lyrics over the beats that I made. So I was always into music, but never really went anywhere with it earlier on because basketball took over.
CB: Ah yes basketball, you had an injury correct?
HL: Yes, I tore my ACL twice, same knee.
CB: Isn't that always, like, the basketball death sentence?
HL: Yes, but it mainly only happens to females.
CB: Did you also grow up in the church?
HL: Yeah when I was younger, but when you're younger you're taught these things about how things are supposed to be and you realize on your own, from your own broad experiences, that not everything is what it's "supposed to be".
CB: Do you feel as though you get a lot of influence from the church?
HL: Musically for sure. That's where the most soul you can find in music is, within the church, from the choirs. It's their soul that is in the music. I'm actually working on a song that I'm thinking about getting a gospel choir to do. I was in my hotel room working on some stuff, and I was like, "Oh, it would be dope for a gospel choir to sing over this.", so we will see if we can make it happen. I'm experimenting because I like to have different ways of expressing myself through my music.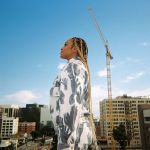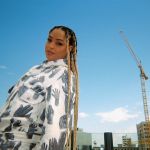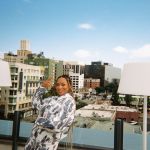 CB: How did you feel about Beyonce's Grammy win for Best Dance/Electronic music album?
HL: I was very happy, and I was one of the people who helped vote because Dance music never has a black female in the category, and the album speaks for itself. Not just because of who she is, the album is what House music was in its original state when it first started. So, I'm glad she paid homage to the people who actually started the genre, because a lot of people forget, or they don't know, where it comes from.
CB: A lot of people felt like she should've been placed in a Pop category.
HL: I mean, even some of the music that these producers in the EDM category create should be in the Pop category. So, at the end of the day, what is the real issue?
CB: I think Beyonce's win in that category was major for Honey Dijon as well…
HL: …and Green Velvet who was a part of it plus Terry Hunter and more, so I don't know what the issue was. It was a win for the culture.
CB: I agree, it was definitely a win for the culture. People often try to section off dance music to just one group of people so I really do feel as though women like yourself are pioneering in this sector.
HL: I can only hope so.
CB: Who are some of your idols?
HL: Well, some people I look up to are Missy Elliot, because she was definitely one of the producers who, when I first started in middle school, I wanted to be like. As I've gotten deeper into the House scene, and am learning about the different DJ's that there always were, instead of the ones that are always pushed in our face, I really love Honey Dijon, Ash Lauryn, DJ Holographic, and DJ Minx. At a time, I didn't know they were there because the media doesn't give them the same platform that they give everyone else. So you actually have to do your research to learn about these people, and, it shouldn't be that hard, it should be just as easy as it is to find Calvin Harris, Diplo, etc. It should be the same.
CB: I agree, Minx is so major. What personal projects do you have coming up?
HL: I have been working on some new singles, and some collabs. I just released one on Friday with Harry Romero named "Inside My Mind", and then I have one coming with one of my other really cool friends, Seth Troxler. I remember I sent him a song in early 2021 or 2020 because I thought it was something he would like. At that time, I was trying to figure out what my sound was going to be, and how I wanted my music to sound. So it's finally getting there!
CB: Congrats on your Beatport Next Artist win!
HL: Thank you, that was super dope. I was just shocked, because of everything that's been going on, I wouldn't have expected this all to have happened so fast.
CB: Also, your Mini Mix with BBC Radio 1 was amazing.
HL: Oh yes, that was another one! Danny and his really good friends who run Radio 1 over there have always been super supportive. Every song I put out, they always spin it on Radio 1.
CB: What do you have to say to the person who just hasn't discovered that Dance music can be for everybody, not just one kind of person?
HL: It's been put in their face that it's this certain genre for one group of people and that's not what Dance music is. Just like how you take risks in life, take risks with the kind of music you listen to. You just have to diversify yourself. I grew up listening to all types of music, because my mother was one of those people who was diverse in everything. Whether it was Pop, R&B, Hip-Hop, or Dance music, we were listening. My grandmother loved Jazz, so that's why I love it so much. I made a post on Twitter about how the media is forcing the same DJ status quo on everything. There's nothing interesting, there's nothing new, it all sounds the same regarding what they make and what they look like. They're just like robots, they all look the same, they all play the same. There are so many other dope artists out there who are making even better, or just as good, music as them, but they just aren't getting the same platform that mainstream media uses to push these other people. I wish the industry in America would just take the initiative to try to change, and not keep doing the same thing. They're always talking about, "Oh, we're changing, we're doing this and that.", but you're really not, because I can see it every day that you're not.
CB: It's performative.
HL: It's predictable. There's nothing exciting about it. You know what they're gonna do next.
CB: They think it's progressive…
HL: … but it's not!
CB: We're on to you American music industry! In the next 5 years, what would you like to see from the Dance music industry?
HL: In a perfect world, just everyone being considered as an artist, and not being broken down into so many groups. If we just all saw each other as equals, there would be equality among the festivals, the club space, and everyone would have equal opportunities.