Just Fire Mixtape Vol. 5 also plays in the lockdown
The solution to every problem
Just Fire Mixtape, the project launched by Lubra, Ignorance and Wolsha, arrives at its fifth appointment available from today. The host of this mixtape is Tboy with his illustrations inspired by techno, the surrealism of Luis Buñuel and Salvador Dalì and the educational illustrations of the 70s.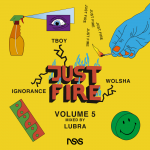 Mixing the fifth volume of Just Fire Mixtape once again by Lubra, who with the Stereoliez project has created a series of releases supported by the likes of Diplo, Skrillex, The Chainsmokers and DJ Snake.
You can listen to the fifth Just Fire Mixtape right away by clicking on this link.