Vans' 50th anniversary celebrations continue
With workshops, performances and special events
March 16, 2016 marks the 50th anniversary of the tradition Off The Wall. Yes, it was March 16, 1966 when in Anaheim, California, Paul Van Doren opened his first Vans store. A brand that has marked an evolution in action sports, but also in the world of art, music and urban culture, becoming well-known and appreciated all over the world also thanks to the House of Vans project.
In addition to the two permanent locations of New York and London, new House of Vans pop-up stores will appear in other locations around the world to celebrate this 50th anniversary: ​​ten different cities - London, Toronto, Mexico City, Austin, Brooklyn, Cape Town, Hong Kong, Sao Paulo, Seoul and Kuala Lumpur - will host ten different events to pay tribute to this unique and unrepeatable happening.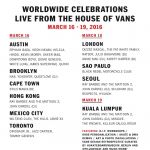 Vans will present a selection of artists including Erykah Badu, Nas, Jamie xx, The Kills, Wu-Tang Clan and many others, in an engaging atmosphere created especially for the occasion. In addition to music artists, there will be special installations curated by the collectors of the Skateboard Museum in Berlin and The Other Side of the Pillow, which will trace and honor the 50th anniversary of the brand's history in key moments, with vintage products and limited editions.

There will also be activities such as workshops, shoe customization and an exhibition of the new 3D campaign, that will be launched on March 16.

The inaugural event will mark the beginning of the global expansion of House of Vans, which demonstrates the brand's commitment to promote the expression not only through extreme sports, but also through music and art.

Celebrations will continue throughout 2016 to further encourage the creative community who supported Vans during these 50 years.