5 things to know about Gucci's SS24 show
The return of patent leather and the red stripe
Gucci's SS24 show has just ended, the first proposed by new artistic director Sabato De Sarno after Alessandro Michele. The weather in Milan these days did not allow the catwalk to take shape in Via Brera, outdoors as planned, so the location was imposed from above - literally. At the Gucci Hub, in Via Mecenate 77, the maison's headquarters hosted hundreds of VIPs, including Emma Chamberlain, Julia Roberts, Ryan Gosling and Paul Mascal, immersed in a purple-red projection, the stylistic signature chosen by De Sarno for his new Gucci.
Here are 5 things you should know about Gucci's SS24.
The return of patent leather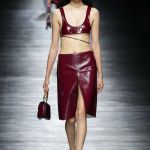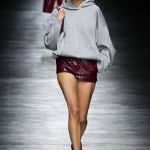 Gucci's was a cohesive collection, the child of a distinct artistic vision. One of the fil rouges of the show was the choice of shimmering materials, including vinyl and patent leather, more modest options than latex that allowed De Sarno to compose looks such as suits, pencil skirts and miniskirts, finding the right compromise between the sensuality of the reflective material and the rigour of the vintage silhouette. A return to the 1960s in Instagram green.
Jewel looks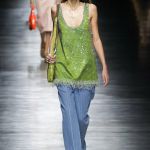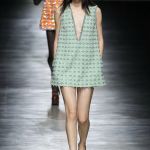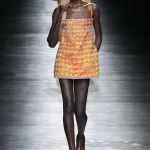 Sabato De Sarno's new Gucci did not fail to provide looks worthy of an extra-glamorous evening. A-line dresses composed of bright and colourful gemstones took centre stage during the show, inserting themselves between looks of more ordinary composure. We couldn't wait to discover Gucci's new accessories, but in the end it was impossible to look away from these shimmering dresses.
Say goodbye to trousers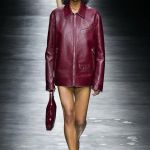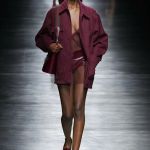 De Sarno's designs were inspired by the history of the fashion house, but one of the trends that appeared on the catwalk came from the street style of 2023. A pair of models, equipped with sunglasses and chunky gold jewellery, walked the catwalk covered in heavy leather jackets, but with their legs uncovered, without trousers or skirt. A styling we have already seen on Kylie Jenner, Kendall and Emma Corrin, Gucci's new fashion show confirms the rise of underwear as trousers. Presenting yourself like this on a first date could certainly help break the ice, but the choice is yours.
The see through look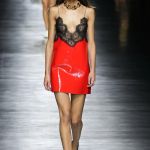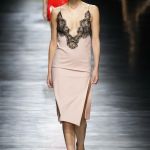 As well as the pantless looks, Gucci's SS24 counted a fair number of see through, or rather: bare-breasted looks. Between dresses with black lace inserts and A-line dresses in coloured stones, a stylistic constant was the transparency of the materials that allowed a glimpse of the models' nipples. Transporting us back in time, to the years of sexual liberation, De Sarno sided with Free The Nipple.
The return of the wedge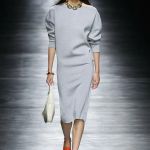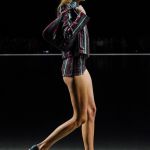 The bejewelled accessories and looks left many open-mouthed at Gucci headquarters, but the real star of the show were the shoes. With an eight centimetre high rigid wedge, Gucci's iconic horsebit pumps were transformed into dizzyingly colourful platforms, from orange to green crocodile skin.