The Tony Soprano style guide
Cogars, white robes and managing criminal businessed are all extras
Few series in television history have had an impact as great as The Sopranos. If nowadays we're flooded with crime dramas from all parts the world, from the Brits of Gangs of London to the Australians of Animal Kingdom and the yakuza of Tokyo Vice, the first TV show to teach the world that there could be a whole world hidden behind the most trite gangster stereotypes was The Sopranos. In the series, Italian-American culture and its recurrences, its dialects, its social customs, have perhaps more relevance than the progression of the story - and the stories themselves are more about the lives of the characters than the criminal achievements of the Soprano family. Among these characters, Tony Soprano is the absolute giant: his imposing figure, his voice, his transitions from total calm to ferocity - every minute that James Gandolfini is playing the New Jersey mafia boss contributes to making him more iconic.
To be fair, the costumes have also contributed to this: Tony Soprano's style is still stuck somewhere between the 1980s and 1990s, the colours are dark yet the patterns are fun, and the cuts of the clothes are as vast and imposing just like the man wearing them; the choice of jewellery is conspicuous, traditional and heavy; and there's also a whole trove of dressing gowns, silk ties, loafers, tracksuits. A style that many have tried to imitate and that we have deconstructed into five macro-areas. Here's how to dress like Tony Soprano.
Patterned tops

Tony Soprano mainly wears three types of tops: short-sleeved shirts, knitted polo shirts and mock shirts. On almost any occasion, the tops are never plain, but rather covered with vintage decorations and patterns. Be it geometric patterns, large or small stripes, colour blocks, inlays and weaves - Tony does not like minimalism. All tops have a distinctive vintage feel, even for the 1990s, in which the episodes were filmed - the best are definitely the bowling shirts with contrasting collars, but also his mock-neck/lupee jumpers, one of Soprano's many signature looks.
Gold jewellery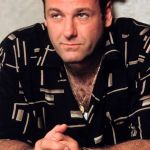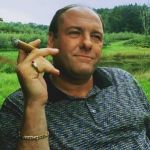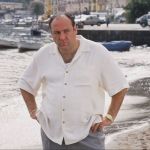 A chain with a votive medal of Saint Anthony, a signet ring, a bracelet and, of course, two Rolexes, depending on the day: the most classic was a champagne-coloured Day-Date President, at other times there was a steel Submariner with a black dial, which legend has it belonged to James Gandolfini himself. Of course, all this apparatus was made entirely of gold: very traditionalist jewellery, and quite loud.
The mega-suit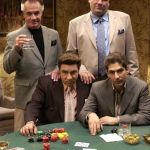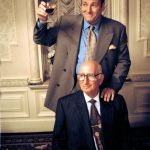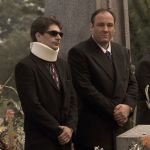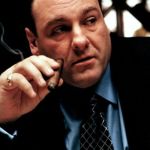 Even Tony Soprano has to dress for formal occasions. Suits are an essential part of the Soprano family's life - in one of the very first episodes, incidentally, an entire scene revolves around Tony and his friends 'commandeering' a rack of men's suits stolen from a truck. The formal suits of Tony Soprano and his business associates have wide cuts, monumental in some ways, and are often broken up with a knitted polo shirt or polo neck underneath, as if to evoke the populist origins of those who only happen to have a vague idea of how a very rich or elegant person dresses. Both jackets and ties are often in pinstriped or checked fabrics, the double-breasted blazer is frequent, and there are always details that betray a certain ostentation, a search for a surprise effect - plain-coloured ties and shirts contrasting with the jacket, gold tie clips, ensembles in which each piece is a different colour (the mix of grey checked jacket, light blue tie and handkerchief, champagne yellow shirt, tobacco-coloured trousers and brown Gucci loafers remains iconic) that clash. Let's keep this between us, but the best Tony Soprano is the one that keeps its style minimalist, wearing simple white shirts and big 80s bussiness-core ties - but it wouldn't be Tony Soprano without that vague whiff of excessive taste.
The leather jacket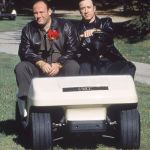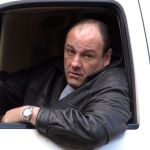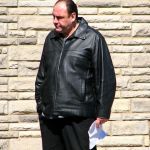 Tony Soprano, we already know, is a simple guy who likes to dress simply, just like his family taught him. Although he's sometimes found wearing a suit, he rarely happens to be seen in a formal look. After all, in the eyes of the world he runs a waste disposal company. Being the old-fashioned man that he is, Tony usually wears a leather jacket from Remy Leather, the classic Made in the U.S.A. jacket company, although in some episodes there are some hints of whimsy, such as the double-breasted leather jacket with gigantic lapels and a red 'sang de bœuf' colour that, with a few adjustments, would not have looked out of place in one of Bottega Veneta's lookbooks.
The white tank top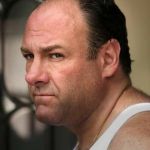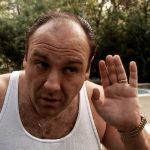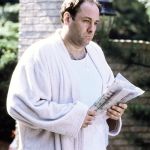 Just like any Italian-American man, Tony never foregoes the most classic underwear piece of them all: the white tank top. It's clear that we're not talking about the white tank top of the athletic influencers flooding our Instagram feeds; Tony Soprano doesn't have a sculpted physique to show off, nor would he probably want to attract the attention of strangers online. The tank top you see in The Sopranos is old-fashioned, worn without vanity nor irony, the kind our grandparents wouldn't even take off underneath the hot August sun. Maybe that's why it was only partially visible.