How was Gucci's Cruise show in Seoul
Italian elegance meets South Korean eclecticism
Today Gucci held its first fashion show in Seoul, a unique event celebrating the dialogue between different cultures through fashion. The Gucci Cruise 2024 collection aims to tell precisely this exchange between the heritage of the Italian brand and the influence of South Korean culture, reflecting the global community represented by Gucci, with a 100-year creative history evolving through designers and artisans from every corner of the planet, each with their own vision and culture. The show took place in the striking ceremonial courtyard of the Gyeongbokgung Palace, an ancient 14th-century building built by the Joseon Dynasty in the heart of Seoul. With the futuristic backdrop of the city's skyscrapers in the background, the interplay between eras and traditions was accompanied by a soundtrack by composer Jung Jae-il and featured many local and international stars including Ryujin, Lee Jung Jae, Younghoon, Juyeon, and Elizabeth Olsen, among others. The collection explored an idealistic global urban wardrobe, inspired by the eclectic style found on the streets of Seoul finding a global echo. The brand's CEO, Marco Bizzarri, commented:
«Gucci's journey in Korea began twenty-five years ago with the opening of our first boutique in Seoul and has grown over time, strengthening our relationship with local communities, supporting their talents and creating a link between cultures through the preservation of this country's unique heritage. Florence and Seoul, Italy and Korea, so distant on the map but so close in the creation of beauty, in the sense of wonder. That is why we are honored to present our Gucci Cruise 2024 collection here».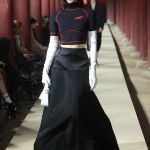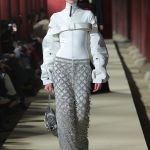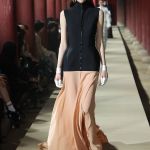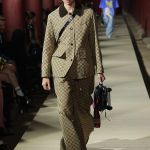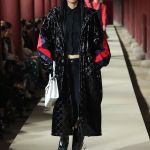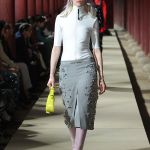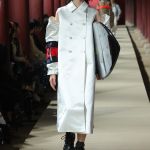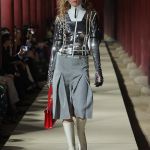 The silhouettes seen on the runway recall Gucci's style in the 1990s but with more current colors, reflecting changes in the way people dress across several generations. Formal wear gives way to a mix of sporty and formal elements, combining bouclé suits, silk blouses and low heels, with the sportswear so present in everyday life in Seoul, such as the diving suits worn by windsurfers and jet-skiers on the Han River. Body-hugging silhouettes alternate with oversized skateboard-inspired looks. The collection hybridizes and deconstructs garments, often decorated with Ram Han's graphics, with removable sleeves becoming accessories and zippers allowing pants to expand. The bomber jacket becomes an evening skirt, the biker jacket stretches and becomes an overcoat. Some trapeze dresses feature pronounced, architectural structures while silk bands with bows are inspired by traditional Korean dresses. Finally, bags evolve from Gucci Horsebit Chains warped or narrowed or the horsebit symbol repurposed for a men's bag. Minimalist Gucci bags from the archives are revisited with ornamental motifs and references to aquatic activities but also iridescent finishes and in fine leathers. Note of credit to the cyber-goth-style boots that evoke the world of clubbing and the mules inspired by diving boots.