Self-reference and archive at Ann Demeulemeester and Nina Ricci
How two Millennial designers take on a historic brand
In a lukewarm Paris Fashion Week with no particular infamy or praise, the debuts of Ludovic de Saint Sernin and Harris Reed at the helm of Ann Demeulemeester and Nina Ricci, respectively, were among the most anticipated events. As could be expected, both debuts divided audiences and fans but also highlighted the way two Millennial designers approach two historic and niche brands, reinterpreting them with an eye to the archive but also with a perspective characterized by a very explicit self-referentiality. Before discussing these two debuts, some context is needed, as these two brands are not at all similar and possess very different positioning and strategies. Nina Ricci, for example, which is part of the perfume giant Puig, presumably had no intention of relaunching a very successful clothing business: the brand needed to become relevant again because (let's face it) who gave a damn about Nina Ricci? No online source can talk about the brand without mentioning that it used to be a couture house and now sells perfume - which is not necessarily a bad thing in itself, Mugler and Gaultier also sell mostly perfume, and so Reed certainly had more freedom in building a collection whose primary task was not to sell out immediately. Things were different at Ann Demeulemeester where instead so much was at stake: the brand is 40 years old behind it, a founder who is not only alive and well but is regarded by her followers as a kind of secular Madonna, the brand's owner is Claudio Antonioli, a retail mogul but also a family friend of the founder, and he bought and rebooted the brand precisely to elevate its clothing. With this new collection, then, De Saint Sernin had to juggle between respecting one of the most revered archives in fashion history and the need to bring safe commercial hits to the brand without falling into sterile copying of the past.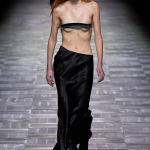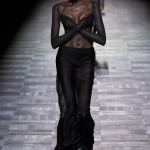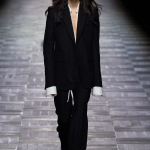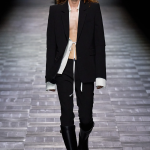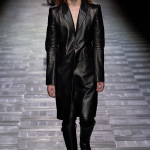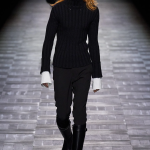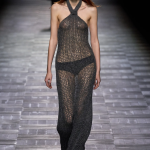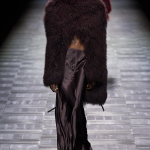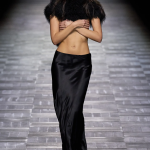 As we said, both debuts took place under the sign of self-referentiality. The looks may be many but the designers are dressing first: the individual collections are not so much trying to update imagery but seem to want to centralize it around the person and personality of the creative director. Ann Demeulemeester's models all looked like cosplays of De Saint Sernin; at first, his insistence on an exhausted and charged sensuality, the ubiquitous nudity that is the trademark of his collections had seemed excessive and the result ultimately narcissistic. De Saint Sernin (who, we read, to prepare for the collection took to wearing Ann D.'s archival dresses to make them feel more his own) proceeded with caution but also with respect for the archives: the models hiding their bare breasts came from the brand's SS95 collection; the sheer tops and minimal-chic tailoring were reminiscent of some of the looks from SS98; the satin skirts with fur collars were a sexy reinterpretation of looks seen in the brand's FW00. In short, to make a long story short, De Saint Sernin was diligent and cautious, staying on a safe playing field (the asymmetries, complexities, and more delightfully chaotic and theatrical elements of Ann D. were completely lacking) and yet also representing a very good starting point for a brand whose, until yesterday, fans were lamenting the decline in quality and loss of original identity. It will probably be good in the future to see De Saint Sernin put his eye and hand to work on more structured and complex concepts but as a restart from the past or, if you will, as a reboot of the brand his was prudent and well done. There has been a lack of particular creative flights, true, but it is also true that before flying one needs to know how to stand on his ground and, in Ann D.'s case, also to familiarize oneself with that wabi-sabi aesthetic and somewhat Dark Souls-style vibe that to reproduce with measure and restraint is not easy. Much of the tailoring, however, was quite desirable, although in the future the basicness effect should be avoided as much as possible, which, if the simplicity of this collection were to become repetitive or systematic, could occur. But we are hopeful.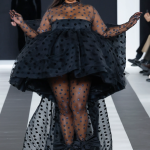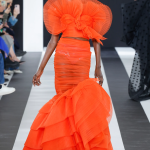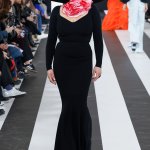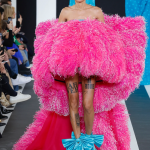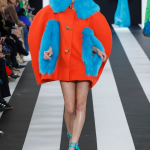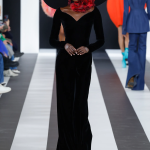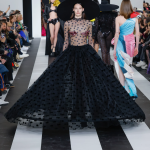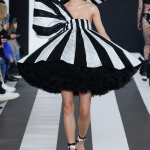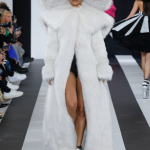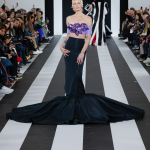 As for Nina Ricci, the rate of self-referentiality seemed higher. Given the actual weight of Nina Ricci's couture in fashion history (let's say she was not a Vionnet or a Madame Grès) and the number of creative directors changed by the brand, the criterion of respecting the brand's historical heritage was nowhere near as rigid as that applied to De Saint Sernin. Reed produced the looks he could have produced for his brand: the shapes of the skirts, the tailored suits, the Carmen Sandiego-style mega-hats - all with an overlay of color and exuberance. But, as a designer, Reed is something of a rare bird in the fashion industry: his collections have never been commercial, and there are no ready-to-wear or even conventional runway shows - the air of celebrity surrounding him preceded even clothing success, leading him to produce jewelry and home candle collections that usually, for a designer, come later, as a capstone and complement to clothing work and not before it. But, as mentioned, Reed is of a different generation, he is his brand embodied, and the product he sells is a vision and an ideology. For many of his collaborations, Reed is also a model as well as a creative - his face and identity are a selling point, and perhaps that is why Nina Ricci's collection seems to come little out of languages known to him and does not identify with an ideal customer. It is the customer who must identify with Reed, who, by the way, already has a perfectly structured community that will no doubt think about driving eventual sales. We leave to others the considerations about the success or otherwise of the collection - its goal, in our opinion, was to restore relevance and visibility to a brand now reduced to an empty shell in which, when you put your ear to it, you hear the praises of pre-war Parisian successes and which still sells a surprising amount of perfume. With his arrival Reed has operated a kind of blood transfusion: his vast and vital community channeled into the Nina Ricci business, wants to revive an anemic brand. Whether he will do it and how - but if the Internet has taught us one lesson, it is to never underestimate a fandom.