One Block Down collaborates with RefrigiWear
A celebration of workwear and streetwear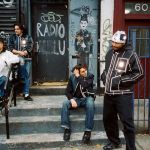 For its latest project, One Block Down is collaborating with RefrigiWear, an institution in the world of workwear based in Manhattan, New York. One Block Down celebrates the heritage of the American brand and its relevance after more than 60 years. It looks back and examines the roots: what gave them life, kept them alive and allowed them to evolve.
To honour RefrigiWear's
evolution
- from its beginnings to what the brand represents today - and highlight its importance in
street culture
, One Block Down has adapted four of the brand's iconic garments. The
limited-edition collection
includes the
Iron-Tuff® jacket
(345 euros) and
waistcoat
(175 euros), double-weight cotton
hoodie
(150 euros) and rugged
leather gloves
(65 euros). One Block Down developed the cut and fit of each garment to create a contemporary reworking and finished them with reflective stitching and co-branding: a closer look at the logo patch shows the 1960s mascot "Reggie" behind the One Block Down lettering. The gloves are in white, while the jacket, waistcoat and hoodie are available in three different colours: White, Black and Turquoise.
In conjunction with the launch, One Block Down has released a
short film
directed by Rick Rocha, shot in RefrigiWear's hometown of New York and featuring the daily routine of protagonist "Iceman" The film celebrates the brand's historical legacy in the workwear universe and its relationship with streetwear culture as new subcultures have taken over.
The limited edition collection is available online at oneblockdown.co.it and in One Block Down's three flagship stores (Milan, Paris, Rome)