What if Riccardo Tisci became the new creative director of Off-White™?
The rumor is not confirmed, but it is circulating persistently within the industry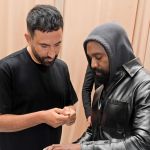 Riccardo Tisci at Off-White™, this is the rumor that keeps circulating these days in the showrooms and at the soirées of fashion weeks in Milan and Paris. Being only a rumor, the news is impossible to confirm - yet some reliable sources describe it as very well-founded. Also according to the sources, Ib Kamara should keep the role of Art & Image Director of the brand while Tisci should take care of the actual collections. If we were to take the rumors at face value, Tisci's presence at Off-White™ would not be out of place: although founded by an American and 60 percent owned by LVMH, Off-White™ remains a Milanese brand, rooted in the cultural heritage of the New Guards Group, and Tisci is a specialist in the kind of luxury tinged with streetwear for which the brand founded by Virgil Abloh has become the absolute gold standard.
Admittedly, the appointment of an Italian designer could be at odds with the brand heritage built by Virgil Abloh, especially on the level of culture and references-although, in Tisci's specific case, his lifelong friendship with the founder and his ongoing association with Kanye West, which has not been interrupted since Watch The Throne, could be an excuse. From an optical point of view, so to speak, putting a designer like Tisci at the helm of a brand like Off-White™, in which the spirit of Virgil Abloh will always live on, could be a risky move especially on the PR level. No less, just a relatively young luxury brand, the presence of an established professional, a specialist in the luxury market and a veteran of important assignments that, in the past, have also included couture could be an important support for the growth of Off-White™, which, after the passing of its founder, will necessarily have to find a precise language and creative direction. Time will tell if the rumor is true or not. At the moment all we can do is speculate.